This Rotten Week: Predicting Ben-Hur, War Dogs and Kubo And The Two Strings Reviews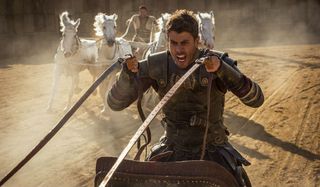 Hollywood has a little something for everyone this week. A remake of a sword and sandals classic, animated fare for the kids, and a little gun running. Get ready for Ben-Hur, Kubo and the Two Strings and War Dogs. It's gonna be a Rotten Week!
Just remember, I'm not reviewing these movies, but rather predicting where they'll end up on the Tomatometer. Let's take a look at This Rotten Week has to offer.
I know this won't be popular with everyone on here, but the original Ben-Hur doesn't exactly hold up like some other Hollywood classics. It's an endless parade of overacting and boredom. I know for the time it was considered epic movie making, but now it's a tough rewatch. Believe me, I tried. But does that mean we need it remade? Definitely not. Let sleeping Romans lie is what I say - and I think a lot of critics are going to feel that way.
We're now getting a retelling of Judah Ben-Hur's tale of highs and many, many lows through the eyes of director Timor Bekmambetov (Wanted - 74%; Abraham Lincoln: Vampire Hunter - 39%). Unfortunately, it doesn't look like they're doing the original any favors here. The project's release date was pushed back months by the studio (never a good sign), and there's also reason to suspect it will be a box office mega bomb. We could have just left this one be and sent it to the retirement home of movies. But no, Hollywood just can't help itself.
Speaking of movies being pushed back from the original release date, we get War Dogs, the story of two hustling dudes who happened to score a massive government weapons contract with really no experience in the field. The fact that this flick is based on a true story makes it at least interesting on the surface. Miles Teller and Jonah Hill are strong leads, playing a couple of bros who work their way into the upper tier of arms dealing culminating in outfitting the Afghan army post 9-11. I want it to be good and the trailer looks slick and funny. But this could be all gloss and little substance especially if the main leads are epically unlikeable.
Director Todd Phillips is relatively hit or miss when it comes to critical reaction. Sure, he's got The Hangover (79%) and Old School (60%); but he's also made School for Scoundrels (25%), Due Date (40%), and The Hangover sequels (33% and 20%). It's all to say that we aren't locked into a solid critical finish for War Dogs.
The trailer for Kubo and The Two Strings, the latest feature from the stop-motion animation team at Laika, had me at the first couple of electric chords of "While My Guitar Gently Weeps." Honestly, the movie could have been just about anything I'd I have been on board. That it's an adventure story about a kid, a guitar and his magical powers. Sign me up.
This film is from the same studio that gave us Coraline (90%), ParaNorman (87%) and The Boxtrolls (75%), and it looks like Kubo and the Two Strings will continue Laika's string of critical hits. It's already off to a nice start. Early reviews on Kubo are excellent, with the film sitting at 90% right now with critics using words like "staggeringly beautiful", "dazzling", and "superb" among other praise. The score likely sticks in this range over the long haul.
I got a hit on all three movies last week, though I have to admit some early reviews helped here. That being said, this is about as strong a group of three predictions will finish on the Tomatometer.
For starters, Pete's Dragon (Predicted: 79% Actual: 85%) did well after an expected little dip mid-week. Just the right kind of children's movie. A story of a kid and (not-too-scary) dragon's friendship. This is a tough thing to pull of in terms of live action, but they did it and came back with strong critical returns. My prediction fell well within range.
Meanwhile, Sausage Party (Predicted: 90% Actual: 82%) dipped down some during the week and this was one I was glad to have a couple of early reviews on. There's almost no chance I would have predicted an R-rated story of food coming off the shelf and learning the inappropriate wonders of the world this high on the Tomatometer. It appeared more a stoner cult classic than an actual critical gem. And yet here is is pushing over 80%.
And finally, Florence Foster Jenkins (Predicted: 91% Actual: 86%) was an easy one. This looks like about a vanilla a film as you get, but it also happens to star Meryl Streep . I'm not knocking it for being a safe movie. I get it, but rather explaining why it was an easy prediction. Nothing controversial here with a nice enough story starring a legend of film. Total layup.
Next time around we've got Don't Breathe, Hands of Stone and Mechanic: Resurrection. It's gonna be a Rotten Week!
Your Daily Blend of Entertainment News
Doug began writing for CinemaBlend back when Terminator: The Sarah Connor Chronicles actually existed. Since then he's been writing This Rotten Week, predicting RottenTomatoes scores for movies you don't even remember for the better part of a decade. He can be found re-watching The Office for the infinity time.