The Biggest Winners And Losers Of The 2016 Summer Movie Season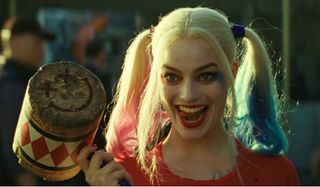 It's hard to believe that it's already the end of 2016's summer season, considering we remember seeing Captain America: Civil War as if it was last weekend. It's been an interesting season at the movies, to say the least, and as usual there are winners and there are losers who are either enjoying their spoils, or licking their wounds. Though there's no longer a real off-season to speak of in the box office market, we can still take a moment to reflect on what happened, and who landed on which side. So raise a glass, and drink with us to summer 2016: the best, and worst, of times at the movies.
Winner: The Horror Genre
The Conjuring 2 and Lights Out both made compelling arguments for why horror is still a vital genre in the big budget side of Hollywood. Both films performed quite well in their respective release windows, and have kept the door open for others to cross over into the big leagues. Even better still, the film that may dethrone Suicide Squad's August reign of excellence is none other than the low budget horror outing Don't Breathe. With fans and critics alike buzzing about Fede Alvarez's latest exercise in terror, we're sure there are plenty more scares where that came from.
Loser: The Comedy Genre
Oh Comedy: a genre so wonderful, that it's hard to laugh at the fact that it failed to produce any high voltage hits this summer. Films like Keanu and The Nice Guys should have been easy summer contenders, but for some reason they both under-performed in a noticeable way. And the less said about the overall lukewarm performance of Ghostbusters, the better. Even a sure-fire win like Neighbors 2 struggled. While it probably wasn't the hardest hit genre of the summer, Comedy is going to need to do some serious thinking before it tries to sell the world on its next big idea.
Winner: Will Smith
Will Smith didn't just dodge a bullet in 2016, he fired quite a few back at the forces of fate. Not only did Smith pass up the turkey and a half known as Independence Day: Resurgence, he decided to take a chance and play a pretty bad dude in Suicide Squad. Come to think of it, watching Smith's performance in the latter was probably the most fun we've seen him have in quite some time. Let's hope that future projects like Bad Boys For Life keep the streak going for the pride of West Philadelphia.
Loser: Melissa McCarthy
We really like Melissa McCarthy. In fact, it's hard to be a living human being and not like her generally peppy outlook, even temper, and comedic chops. However, in the year 2016, it was hard for McCarthy to land a comedic hit that put her on the up and up. While The Boss was an out-of-season mediocrity at the marketplace, Ghostbusters caused a huge loss to Sony's rainy day fund. While it's not 100% her fault that the public didn't take to either film, we wonder if this is a temporary set-back, or something worse.
Winners: Animation Fans
Wow. If you're a fan of animated films, both kid and adult oriented in content, you had a lot to pick from this summer. Be it Finding Dory's emotional journey, The Secret Life of Pets' shenanigans with four legged pals, or Sausage Party's food based raunchiness, there was fun to be had by all. Even Kubo and the Two Strings mesmerized the intelligent audiences. And it seems like everyone got their fair share too, as the grosses for all of these films reflect a public hungry for animated entertainment, and with no signs of slowing.
Losers: Indie Fans
Normally during the summer, we'd hear about one or two indie hits that build such a groundswell of buzz that you have to see them for yourself. 2016 just didn't have anything like that, though if we were to guess, the closest the market came to an independent hit was Captain Fantastic, simply because it was one of the only ones we could remember. Even The Neon Demon, which seemed destined to draw in fans of Drive and high fashion alike, swung and missed in an extremely limited window of engagement. Fingers crossed we'll see some more compelling independent films towards the end of the year, as awards season mounts up.
Winners: Female Superhero Projects
As recently as five years ago, you'd probably be laughed off if you thought that a movie like Wonder Woman or Captain Marvel would be in the works any time in the near future. Yet here we are, with both films not only ready to come at us in the next couple of years, but also sounding like mighty prospects for entertainment. Both Gal Gadot's appearance as the Amazonian princess protecting humanity from itself, and Brie Larson's mere casting in the long awaited Captain Marvel film have us ready to see what Hollywood does with A-list properties lead by a female lead.
Losers: Remakes
Remakes: movies so nice, they were made twice! At least, that's what we think is going through the minds of folks who brought Ghostbusters and Ben-Hur to the theatrical arena in the past couple of months. With both looking at massive loss of investments, the studio system may want to think twice before Ocean's 8 or any other loosely based remake / sequel disguised as a remake / anything remotely standing near the word "remake" hits the pavement.
Winner: Disney / Marvel
Four of the top five spots for 2016's highest grossing films belong to Disney, with Marvel Studios ranking in with the highest grossing film of the year thus far. Captain America: Civil War was, and still is, a tough act to beat when it comes to the summer movie season, and that was during The Jungle Book's whirlwind pre-season run. Though, Finding Dory certainly helped keep things going for the house that Walt built, as its success was still a surprise, even to those who were totally on board with the concept from day one.
Loser: Warner Bros. / DC Comics
The good news for Warner Bros. is that Suicide Squad is keeping them in the comic movie game, and has brought them a truckload of money and fan adoration (though not critical respect) in the process. However, the bad news is that films like Central Intelligence, The Legend of Tarzan, and even Me Before You didn't do them any favors, as all brought in middling to diminished returns. Not to mention, the PR nightmare that was the downright toxic letter from an alleged ex-employee hasn't cast a rosy tint on their future either.
Winner: Hollywood Studios
In a year that was supposed to be marred with a lower showing than last year's blockbuster summer, Hollywood pulled that proverbial rabbit out of the hat! With a 3% jump in grosses from last summer, Tinseltown seems to be bucking the odds. They may still have their problems, but considering the doldrums they looked like they were headed towards, a narrow victory is still just as sweet. Not to mention, 2017's looking mighty bright with all of the big ticket flicks that are looking to make their way into the market.
Loser: Sci-Fi / Fantasy
If you needed two huge signs that these usually dependable genres have had a bad year, look no further than Warcraft and Independence Day: Resurgence. While Warcraft has been making its bones overseas, both it and Roland Emmerich's terminally overdue sequel were slammed by critics. Not to mention, it still sucks that the domestic market seemed to reject both of these films en masse, especially when on paper they should have been sure things. Maybe it's time to give Sci-Fi and Fantasy a breather, so as to regroup and let the dream factory replenish. Though we have a feeling that's easier said than done.
CinemaBlend's James Bond (expert). Also versed in Large Scale Aggressors, time travel, and Guillermo del Toro. He fights for The User.
Your Daily Blend of Entertainment News
Thank you for signing up to CinemaBlend. You will receive a verification email shortly.
There was a problem. Please refresh the page and try again.