A New Star Wars Story Explains How The Main Villain Connects To Jyn Erso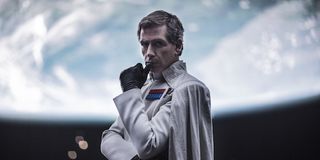 The heroes and villains of the Star Wars mythos have a nasty habit of connecting to one another in dramatic fashion. It makes for great stories, but it can seriously make their lives hell. With the saga soon taking a break from the Skywalker clan in Rogue One: A Star Wars Story, we had pretty much assumed that the family drama would end until Episode VIII -- we were wrong. Now it seems that the main villain of Rogue One shares a distinct connection to Jyn Erso through her father. It doesn't get much more Star Wars than that, people.
The folks at Stitch Kingdom have gotten their hands on the synopsis of the Rogue One prequel novel, Rogue One: Catalyst, and it sheds some light onto the narrative of the upcoming anthology film. It seems that Ben Mendelsohn's character, Orson Krennic, shares a thorough backstory with Jyn Erso's father, Galen. In the years prior to the events of Rogue One, Galen Erso is a brilliant scientist whose work in energy-based weapons could help realize the construction of the Empire's ultimate weapon: the Death Star. Eventually Krennic enlists Galen Erso to continue his research and build the moon-like space station under false pretenses, and anyone who has seen A New Hope knows the result of his work. He's basically the Robert Oppenheimer of the Star Wars universe.
It's difficult to discern whether or not the familial drama will help or hinder Rogue One when it finally hits theaters. On the one hand, knowing about Galen Erso's connection to the Death Star will give Jyn a very personal reason to fight back against the Empire, as well as Orson Krennic himself. However, there's also an argument to be made here that the film shouldn't connect everything quite so neatly. This isn't the Skywalker family, and as such having ANOTHER story about a child fighting to correct the sins of the father might feel a bit repetitive, even for the Star Wars franchise.
It's ultimately far too early to tell, although we only have a few months left until Rogue One: A Star Wars Story hits theaters, Disney and Lucasfilm have kept the film's narrative under tight wraps. Everything that we have seen from the upcoming Star Wars anthology film so far looks phenomenal, so all eyes are on Gareth Edwards to deliver the goods when December rolls around. Consider our fingers crossed!
Check out the most recent trailer for Rogue One: A Star Wars Story below:
CinemaBlend will keep you posted with any and all relevant details related to the upcoming release of Rogue One: A Star Wars Story as more information becomes available to us. The first Star Wars anthology film will hit theaters later this year on December 16.
Your Daily Blend of Entertainment News
Originally from Connecticut, Conner grew up in San Diego and graduated from Chapman University in 2014. He now lives in Los Angeles working in and around the entertainment industry and can mostly be found binging horror movies and chugging coffee.