When X-Men Villain Mister Sinister Will First Appear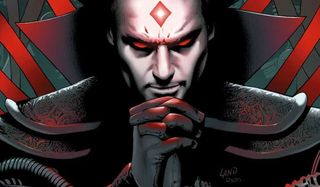 For X-Men fans, the post-credits scene featured in the recent X-Men: Apocalypse is incredibly exciting, as it teases that the movie franchise will soon introduce one of Marvel Comics' best villains: the genetics-obsessed Mister Sinister. That being said, thanks to producer Simon Kinberg's vague comments, it hasn't been exactly clear where the character would show up next. Now we have confirmation: Mister Sinister will be the villain in The Wolverine 3.
We now know this thanks to the audio commentary featuring Simon Kinberg and director Bryan Singer that is attached to the digital release of X-Men: Apocalypse - which just came out this past Friday. As the post-credits scene begins to roll, Kinberg and Singer discuss the Deadpool 2 teaser idea that they ultimately had to scrap, but wrap up that little bit of trivia by confirming that the Mister Sinister tease is indeed a method of preparing audiences for 2017's untitled Wolverine 3.
For those that don't remember the sequence, it begins by taking audiences back to the famed Weapon X facility at Alkali Lake -- which remains a bloody crime scene following the events of X-Men: Apocalypse. A group of men walk into the area, led by a guy in a business suit and thick black glasses, and while some of them are clearly assigned to clean the place up, the others have more specific jobs. The man in the glasses (who Bryan Singer jokingly calls "Elvis Costello" on the commentary) goes into a cabinet and grabs the blood/DNA of Weapon X -- a.k.a. James Howlett a.k.a. Logan a.k.a. Wolverine.
He puts this sample in a briefcase with a lid hiding its contents, and it's then that we see that the men are representatives from Essex Corp., the company owned by Nathaniel Essex a.k.a. Mister Sinister.
Now that we know that Mister Sinister will play a significant role in The Wolverine 3, it makes us look at the project differently -- specifically certain members of the cast. Up until now, all we've known about the James Mangold-directed film is that it will be set in the future and basically be a road movie feature Wolverine (Hugh Jackman) and Professor X (Patrick Stewart). Knowing that Sinister is involved makes us turn a questioning eye towards one new actor joining the X-Men franchise with the feature: Richard E. Grant.
In the casting report back in April when Richard E. Grant signed on to The Wolverine, the character name was kept a secret, but the role is described as being a mad scientist. "Mad scientist" happens to be a remarkably apt description of Mister Sinister, whose existence in Marvel Comics has found him regularly conducting insane experiments involving gene splicing and cloning. Admittedly I'm personally rooting for his to be the case, because Grant would be a perfect choice for Sinister.
It's worth mentioning that just because Mister Sinister will be the villain in the future-set Wolverine 3 doesn't mean that he will exclusively be the antagonist of that film. Thanks to those aforementioned insane experiments, he has what can best be described as complete control over every cell in his body - which on a certain level makes him immortal. As a result, it's possible that we could wind up seeing him, played by the same actor, in X-Men movies from a variety of different decades -- including the 90s set X-Men sequel, the stalled Gambit solo movie, or even Deadpool 2. In fact, his presence could ultimately help to define and the upcoming slate of titles from the franchise, now that the series has completed the trilogy that started with First Class and ended with Apocalypse.
How do you feel about Mister Sinister being in Wolverine 3? Do you agree that Richard E. Grant is the most likely actor for the role, or do you think someone else is playing him in the movie? Hit the comments section below with your thoughts!
UPDATE: Wolverine 3 director James Mangold has posted a Tweet suggesting that Mister Sinister may not be featured in the 2017 blockbuster. We have reached out to 20th Century Fox for clarification on this development, and will provide new information when available.
Your Daily Blend of Entertainment News
Assistant Managing Editor
NJ native who calls LA home and lives in a Dreamatorium. A decade-plus CinemaBlend veteran who is endlessly enthusiastic about the career he's dreamt of since seventh grade.
Your Daily Blend of Entertainment News
Thank you for signing up to CinemaBlend. You will receive a verification email shortly.
There was a problem. Please refresh the page and try again.