This Rotten Week: Predicting Snowden, Blair Witch, Bridget Jones's Baby And Hillsong: Let Hope Rise Reviews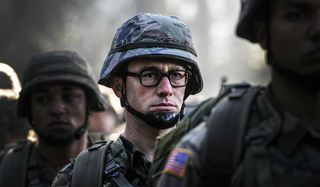 The fall might be huge for consuming pumpkin spice, mentions of pumpkin spice, and all other things related to pumpkin spice (a harbinger of the end of summer), but it's a pretty damn good season for movies as well. Case in point, things are definitely picking up at the box office this weekend, with a handful of big releases. We've got a big one with Snowden, Blair Witch, Bridget Jones's Baby, and Hillsong - Let Hope Rise. It's gonna be a Rotten Week!
Let's Just remember, I'm not reviewing these movies, but rather predicting where they'll end up on the Tomatometer. Let's take a look at This Rotten Week has to offer.
Edward Snowden is a hero in some circles, but a pariah in others. It's not exactly clear on either front how the world at large sees him, and that makes for tricky movie-making business. There are plenty who don't want to see this right from the get-go simply because of politics - not to mention the challenging nuts and bolts that comes with telling the story. Mash them together and it looks like a tough uphill climb for Snowden, and one that writer/director Oliver Stone seemingly wasn't able to pull off this time around.
Critics aren't taking to the film early - following some large-scale premieres - calling Snowden boring and weighted without the sense of letting the viewer decide about the titular figure's virtue (or lack thereof) . The "boring" part is particularly troubling and means the Tomatometer isn't likely to climb. What might have been an interesting story seems nothing more than a slog.
But you're not going to get me this time, Blair Witch folks. I know what your game is all about. You've been superseded by a whole host of other horror folks coming in your wake and the old "found footage" piece has been overdone since you first came around. I'm not getting sucked in this time even if critics seem to be. What made the original Blair Witch scary as hell has been done a thousand times over since and yet every once in awhile something comes along (a sequel maybe) that can still stir up the creeps. It looks like they've done it here, and I have a hard time imagining critics fully accepting it.
Of course, I can't ignore how well the movie has done so far. Through nine reviews, the new Blair Witch is sitting at 100% on Rotten Tomatoes, which frankly, shocked me. Without this kind of head start I definitely would have gone lower. It just looked like bottom of the barrel scraping. But no, the things that made me not want to walk fifteen feet into the woods might be in play here again. We'll see where things stand by the end of the week.
Having never been party to her diary or gone along the edge of reason with her, I'm not sure I'm the foremost authority on all thing Bridget Jones. I'm not quite in this movie's demographic. That being said, the target demo is very much alive, and thus far the movie is performing surprisingly well. Bridget Jones's Diary (81%) was a hit with critics when it came out back in 2001, and with 20 reviews already counted for this third entry, it looks like the series is ready to bounce back in a big way following the less-than-stellar Bridget Jones: The Edge of Reason (27%).
Sharon Maguire, who directed the original Bridget Jones, is back to pick up the pieces from the sequel to tell the story of an awkward English woman, and thus far it looks as though she has done her job right. At the time of this article's publication, the movie has 20 reviews counted, and all of them are positive. This film may not be directly targeted at me, but it does seem to be pushing the right buttons for those who are open to it.
The band Hillsong United has sold millions of dollars worth of records, toured the globe with their music and become an inspiration to thousands of fans. I've never heard of them before watching the trailer for Hillsong: Let Hope Rise, given that they are very much directly targeting Christian/religious audiences - and I assume this documentary won't exact expand the base.
This isn't a slight of course. There are plenty of bands I haven't heard of (many of them plenty popular). But this is a case again of demo audience likely winning the day on the box office sales. Hillsong United is a Christian pop band with a huge following, and that will appeal to critics who like a bit of religion mixed into their entertainment. This movie appeals to one very specific viewer (young and very Christian) and likely no one else. It may be a fine flick but I doubt many see it, and it probably won't do too well on the Tomatometer either.
Well, folks, last week was a rare one. It isn't often you see a 0% review movie on the Tomatometer, and last time around we saw two. Hollywood threw out some real pieces of crap to celebrate the Labor Day holiday. Let's take a look back, shall we?
First off, Sully (Predicted: 87% Actual: 84%) was a big win. There wasn't much in the way of early reviews on this one, but I went strictly off Clint Eastwood's history, content and the presence of Tom Hanks. The lead actor doesn't misstep too often, and he's definitely on point when it comes to a little bit of history infused with drama. I'm not sure if this gets him another Oscar nod, but I'd venture a guess at "Hell yes."
Then we get to The Wild Life (Predicted: 49% Actual: 15%), which fell way short of my prediction. I did think it would fall under your typical animated fare, but I did a bad job of figuring just how much under. The movie ends up in the dregs of the Tomatometer, and though I thought the flick looked bad, I just couldn't bring myself to scrape the bottom of the barrel with its score.
And finally we get to the true disasters. The Disappointments Rooms (Predicted: 31% Actual: 0%) and When the Bough Breaks (Predicted: 41% Actual: 0%) both hit the basement with a bang. Wow. Just wow. I don't really know what else to say here. The flicks were about as bad as it gets. On the one hand I was correct in the tenor of the review and still off by a combined 72%. This is a week for the ages.
Next time around we've got The Magnificent Seven and Storks. It's gonna be a Rotten Week!
Doug began writing for CinemaBlend back when Terminator: The Sarah Connor Chronicles actually existed. Since then he's been writing This Rotten Week, predicting RottenTomatoes scores for movies you don't even remember for the better part of a decade. He can be found re-watching The Office for the infinity time.
Your Daily Blend of Entertainment News
Thank you for signing up to CinemaBlend. You will receive a verification email shortly.
There was a problem. Please refresh the page and try again.