This Rotten Week: Predicting Deepwater Horizon, Miss Peregrine's Home For Peculiar Children, And Masterminds Reviews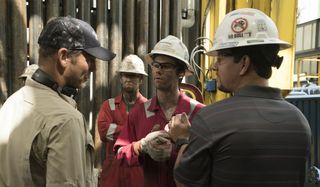 This week sure makes us feel like the year is finally getting its movie swerve back. We are rolling into the swing of things with actual quality flicks to sink a tooth or two into thus fall. Coming this Friday, we've got Deepwater Horizon, Masterminds, and Miss Peregrine's Home for Peculiar Children. It's gonna be a Rotten Week!
Just remember, I'm not reviewing these movies, but rather predicting where they'll end up on the Tomatometer. Let's take a look at This Rotten Week has to offer.
From director Peter Berg, the hero who brought us Friday Night Lights, we now have the big screen story of the crew of Deepwater Horizon - oil drillers party to one of the biggest cluster fucks of environmental disasters we are likely to ever see in our lifetime. It's a little hard to make a hero story out of an event that basically poisoned a large portion of water and killed a lot of aquatic life - but Berg seems to have done it with this one. His directing career's been hit or miss with flicks like Lone Survivor (75%) and the aforementioned Friday Night Lights (81%) mixed in with crap like Battleship (34%) and Hancock (41%). Don't get me wrong, I love Berg, but critics haven't been so warm on him all the time.
Deepwater Horizon, though, is trending the right direction. It is currently sitting at 84% with 25 reviews counted. That's a great start, and I don't expect it to dip all that much throughout the week. It's just a shame we need to have this kind of source material.
I don't like to brag (I love to brag) but I've read Miss Peregrine's Home For Peculiar Children. It's an excellent read that I thought immediately would translate to something pretty wonderful on screen. From the trailer, it looks Tim Burton has done just that. He's taken a wacky story about a kid who basically stumbles on upon a school in an alternate universe for kids with amazing powers and learns he's got some juju of his own. It appears Burton's captured the visual nature of the novel and turned it into a fantastical story, somewhat less dark than his previous work.
The one big issue with this movie is the title is kind of horrible. I know that shouldn't play any real factor in anything, but it's such a long string of words that it's going to drive the box office ticket tellers nuts. But beyond that it looks great, and that's what's important for critics. No early reviews has me a little concerned, but not too much. It's essentially an X-Men-like story with a more childlike sensibility. And it appears Burton's nailed some of the effects and backdrop. I'm excited for this one, if you can't tell.
I wish I drove an armored car. I'd do the exact thing posited in Masterminds, with the protagonists opting to steal a couple of million bucks and live the high life going forward. It's such a simple (and hilarious) task. No wonder a guy like Zach Galifianakis could pull it off. He and I think very much alike. The film is actually based on a true story, and even a healthy dive down the wiki-page for this story unlocks something close to the trailer. It's a bunch of dopes who wanted to steal a bunch of money and wound up in a bunch of trouble. Why not make it a comedy?
Director Jared Hess has had critical success with cult hit Napoleon Dynamite (71%) but other flicks like Nacho Libre (40%) have cut into his cache. I'm not totally sold on this one. I know the comedic cast is quality, but some of the trailer's jokes look stilted. I want it to be good, but there's some suspect material here.
During last week's bout of estimates I wound up having a hit and a miss. The Magnificent Seven (Predicted: 55% Actual: 64%) came just within range of my self-imposed ten percent "win" range. I suspect the studios consider this a minor disappointment considering the cast and the hype. But for a fall western, reimagined to pull in a more "hip" audience, this probably does the trick. This one's a full shoot-em-up that seems to have gone heavy on the action and light on the actual plot. It's probably destined to be a cable classic.
Meanwhile, Storks (Predicted: 34% Actual: 62%) was a big miss on my part. I like my animated movies to have a tilt toward the catering to the adult and this one didn't appear to fit the bill. I thought it looked just too silly and made to market. But it pulled things off with the critics and I was way off in my prediction.
Next time around we've got The Birth Of A Nation, The Girl On The Train and Middle School: The Worst Year of My Life. It's gonna be a Rotten Week!
Your Daily Blend of Entertainment News
Doug began writing for CinemaBlend back when Terminator: The Sarah Connor Chronicles actually existed. Since then he's been writing This Rotten Week, predicting RottenTomatoes scores for movies you don't even remember for the better part of a decade. He can be found re-watching The Office for the infinity time.
Your Daily Blend of Entertainment News
Thank you for signing up to CinemaBlend. You will receive a verification email shortly.
There was a problem. Please refresh the page and try again.