6 Movie Wives Who Were All On The Phone During Disastrous Situations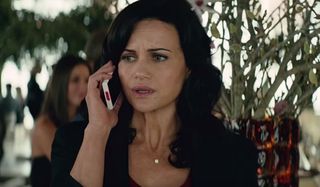 What would you do during an emergency? Everyone reading this would react differently in a crisis, but I think 99% of you would likely try and call a loved one during a disaster, especially one of epic proportions. And yet, the fact that this trope has been leaned on so often in movies as of late has us wondering, "What role are these famous actresses signing up for?"
Kate Hudson, this week, plays the wife of Mark Wahlberg's Mike Williams in the oil-rig disaster Deepwater Horizon. Though they get a few lines of dialogue together at the movie's onset, once the proverbial shit hits the fan, Hudson joins a line of actresses who have bee relegated to phone duty in the face of an emergency. Why is this happening? Let's run through some of the most recent ones, and see if we can figure out why bankable stars are taking these thankless roles.
Kate Hudson, Deepwater Horizon
As the wife of a BP oil rig worker, Kate's character Felicia juggles numerous communication devices over the course of the movie. Once Mike lands on Deepwater Horizon, he keeps a Skype conversation going with his wife, seemingly at all times. But after the fire starts, Kate's on the phone (pictured above), checking in with the Coast Guard, and touching base with fellow spouses to see what's what. While Gina Rodriguez helps Wahlberg save lives on the rig, Ms. Hudson's limited to landline duty, and that's too bad.
Laura Linney, Sully
Living in the Bay Area, Sully Sullenberg's wife, Lorraine, was a full country away from her husband during the dramatic events that play out in Clint Eastwood's Sully. Unfortunately, that fact leaves actress Laura Linney with very little to do in the movie about the Miracle On The Hudson. The Oscar-nominated actress only has a handful of scenes in the docudrama, all post-disaster, and not only do they all feature the same basic conversation with her character's husband, it all takes place over the phone.
Keira Knightley, Everest
Everest was an intense, brutal battle between mankind and Mother Nature, as rugged and brave hikers endured the elements on a hike to the top of the titular mountain. Frigid temperatures, a lack of oxygen, no food and water... but Keira Knightley avoided it all for a film shoot that largely allowed her to stay in pajamas and talk into a phone. You can get phone calls on the side of Everest?! Who knew? This is such a thankless role for the two-time Oscar nominee, I still can't figure out why she agreed to participate in Everest if they weren't going to let her hike alongside Jason Clarke and Jake Gyllenhaal.
Carla Gugino, San Andreas
Finally, someone is breaking the mold. For whatever reason, Hollywood directors love having people -- wives, specifically -- to be on a phone when disaster strikes. Some (as you see above) stay out of the action. Not Carla Gugino. Yes, she was on the phone with The Rock -- from his HELICOPTER!! -- when the massive earthquake hit California. But she quickly joined Dwayne Johnson, and helped him rescue their daughter (Alexandria Daddario) who was trapped in San Francisco. That's more like it. High-profile actresses can BE on the phone when a calamity hits. But don't leave good ones hanging on the line.
Sienna Miller, American Sniper
Sadly, we're back to a pivotal spouse who gets pulled onto the telephone line at an opportune time. Throughout the course of Clint Eastwood's American Sniper, Bradley Cooper and Sienna Miller had in-depth conversations about his need to return to the battlefields... even though he was leaving a wife and child (yes, a plastic baby child) at home. Perhaps feeling that Miller needed one more emotional scene, Eastwood had Cooper call her in the middle of a fire fight -- leading her to break down and wonder if her husband had survived. Seeing as how Eastwood also directed Sully, I'm beginning to assume he just likes the image of his leading ladies on phones.
Bonnie Bedelia, Die Hard 2
Probably my favorite on this list... and possibly of all time. People loved Holly McClane, and were thrilled to see her reunite with her husband, John (Bruce Willis), at the end of Die Hard. But how do you put her on a plane AND make her pivotal to the action in the sequel? You put her on a cellphone. In the air. On a plane. In mid-flight. Tremendous. This actually involved Willis' tech-ignorant cop getting a beeper, using a cell phone, and checking in with Bedelia as he waited for her to land. But this example ends with Holly tasering William Atherton in an airplane bathroom... so that has to win.
Your Daily Blend of Entertainment News
Sean O'Connell is a journalist and CinemaBlend's Managing Editor. He's frequently found on Twitter at @Sean_OConnell. ReelBlend cohost. A movie junkie who's Infatuated with comic-book films. Helped get the Snyder Cut released, then wrote a book about it.