Keira Knightley Just Landed Her Latest Disney Role, And It's Perfect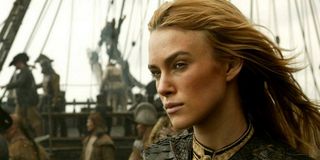 There was a time, not that many years ago, when Keira Knightley -- with a corset and a sword -- helped make Walt Disney Studios a LOT of money. Ever since the Pirates of the Caribbean series set sail without Knightley's Elizabeth on the deck, the franchise has drifted off course, while the actress has kept very busy dabbling in different projects of the indie and offbeat nature. Well, Knightley's getting back in the Disney fold, not for another Pirates adventure, but for a live-action adaptation of The Nutcracker -- a marriage made in seasonal heaven.
Keira Knightley has been cast as The Sugar Plum Fairy in Lasse Hallstrom's planned feature The Nutcracker and the Four Realms, Variety reports. Disney's version of the story will be based on E.T.A. Hoffman's 1816 story, where a young girl's favorite toy -- a Nutcracker -- comes to life and battles a Mouse King, only to then carry the girl away to a land populated by toys. The story, of course, inspired the brilliant Russian composer Tchaikovsky to compose his famous ballet The Nutcracker in 1892.
In the story, the Sugar Plum Fairy is the ruler of the Land of Sweets. In the ballet, she dances in Act 2 of the program, and is accompanied by arguably the most famous piece of music from Tchaikovsky's ballet, The Dance of the Sugar Plum Fairy. Try and listen to this and NOT immediately think of hot chocolate, snowy evenings, holiday gatherings and warm Christmas memories:
Keira Knightley was last seen on screen providing emotional support to a team of climbers in Everest (though she did her acting over the telephone in that serviceable drama). She recently was in the awards hunt alongside Benedict Cumberbatch for the historical drama The Imitation Game, and the tried to help Chris Pine rejuvenate the Jack Ryan franchise with the flat Shadow Recruit. Her best role, in recent memory, was that of a struggling songwriter in John Carney's Begin Again, a movie that's making the rounds on the cable channels, and needs to be enjoyed, if you haven't already.
The Nutcracker and the Four Realms already has cast Mackenzie Foy (Interstellar, The Conjuring) as Clara, Morgan Freeman, and professional dancer Misty Copeland, so Knightley is in good company. We don't know yet what the release date on the film will be, but with casting underway, a Holiday 2017 release date seems right in line. We'll keep you posted.
Movie junkie. Infatuated with comic-book films. ReelBlend cohost. Resident dad. Extroverted introvert. Wants to see the Snyder Cut. Managing Director at CinemaBlend.
Your Daily Blend of Entertainment News
Thank you for signing up to CinemaBlend. You will receive a verification email shortly.
There was a problem. Please refresh the page and try again.