The Star Trek Lawsuit Is Trying To Pull J.J. Abrams And Justin Lin In Deeper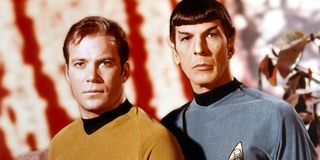 Last December, the producers of a Star Trek fan film, Star Trek Axanar, were hit with a lawsuit from Paramount after they raised $1 million for funding from Kickstarter and Indiegogo campaigns. Many fans were upset that the studio was citing copyright infringement after years of the fan films being released without any problems, and eventually, J.J. Abrams and Justin Lin, directors of the reboot movies, became involved, and Abrams implied that the lawsuit would go away. Well, it didn't and now both men could find themselves pulled deeper into this legal mess.
For those who need a refresher, last May at the Star Trek Fan Event, J.J. Abrams told attendees that he and Justin Lin had spoken with paramount bigwigs and "pushed them to stop this lawsuit." He then said there would be an announcement in the coming weeks of the lawsuit "going away," but in June, it was confirmed that Paramount is still seeking to continue with it. Now THR has learned that Axanar Productions has brought forward a motion to compel discovery, and one of the things it demands is to learn what Paramount discussed with Abrams and Lin about the lawsuit and fan films in general.
There's a lot of legalese to take in, but basically, Axanar believes that these communications will help their case, specifically that J.J. Abrams and Justin Lin's statements could enforce their position on "fair use" as it applies to the Star Trek franchise. Paramount and CBS have stated that what Abrams and Lin have said is irrelevant to the case, but if the motion moves forward, the two men could be called to testify, and that would put both of them in an uncomfortable position.
On the one hand, they're both integral members in the current Star Trek movie franchise, so they've maintained good relationships with these studios. On the other hand, they've expressed their support for the fan film and believe that this lawsuit wasn't, as Abrams put it, "an appropriate way to deal with the fans." As it stands now, the studios are arguing that some of the information this motion demands, including financial documents and internal discussions about fan films and the guidelines surrounding them, are protected by attorney-client privilege or is too confidential to share.
While the debacle surrounding Axanar will continue for the foreseeable future, the official Star Trek movie series is still plowing forward. Star Trek Beyond was released in theaters in late July, earning many positive reviews, but also underperforming financially, taking in only a little over $336 million worldwide. Nevertheless, the series will continue with Star Trek 4, which will see Chris Hemsworth reprising Captain James T. Kirk's father, George Kirk, who perished aboard the Kelvin when James was a baby.
Connoisseur of Marvel, DC, Star Wars, John Wick, MonsterVerse and Doctor Who lore. He's aware he looks like Harry Potter and Clark Kent.
Your Daily Blend of Entertainment News
Thank you for signing up to CinemaBlend. You will receive a verification email shortly.
There was a problem. Please refresh the page and try again.