How Jurassic World 2 Will Be Like Empire Strikes Back, According To The Director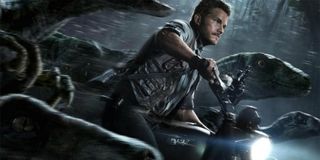 We live in a world of film franchises, and one of the most fascinating sequels still on the horizon is none other than J.A Bayona's Jurassic World 2. Most of the Jurassic films have followed relatively consistent narrative arcs to date, but Bayona has promised a film that will seriously deviate from what we've seen before. In fact, his recent comparisons make it sound like Jurassic World 2 will be the franchise's Empire Strikes Back. He explained:
During a recent interview with Noticias RNC (via Scified), J.A. Bayona laid out the similarities between Jurassic World 2 and The Empire Strikes Back. By his own estimation, Bayona feels that the upcoming sequel to Jurassic World will strike a similar tonal note as The Empire Strikes Back in the sense that it will be a far darker story, as well as one that takes the franchise in a brand new direction from what we've seen before. Plenty of homage will be paid to previous films along the way, but it seems that fans really don't know what to expect with the coming film. Could this indicate a major character death, or a groundbreaking plot twist? We won't know for certain until 2018.
One thing that immediately jumps out upon reading his response is the fact that -- like Empire Strikes Back -- Jurassic World 2 will still feature plenty of laughs along the way. Although it's often held up as an example of the quintessential "dark sequel," Empire is also one of the funniest Star Wars movies to date. If the prospect of a truly dark Jurassic World film had you concerned, then don't worry. J.A Bayona seems to recognize that he has something special with the endlessly charismatic Chris Pratt, and he's going to allow the film to provide moments of levity where the story allows. It's all about balance.
Of course, we're not even remotely surprised to learn that things will get considerably darker in the coming sequel. The overarching plot pretty much guarantees that. As we recently reported: Jurassic World 2 will lean heavily on themes of animal rights and animal abuse. It's a poignant narrative, but not one that lends itself to the most upbeat forms of storytelling.
We will keep you posted with more Jurassic World 2 news as more details become available. The film will hit theaters on June 22, 2018.
Originally from Connecticut, Conner grew up in San Diego and graduated from Chapman University in 2014. He now lives in Los Angeles working in and around the entertainment industry and can mostly be found binging horror movies and chugging coffee.
Your Daily Blend of Entertainment News
Thank you for signing up to CinemaBlend. You will receive a verification email shortly.
There was a problem. Please refresh the page and try again.