Upcoming Horror Movie Sequels: The Latest On Our Favorite Killer Franchises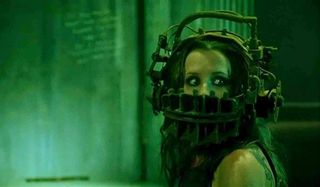 People go to the movies to experience thrills and chills, and few types of films have consistently managed to thrill audiences quite like the horror genre. From slashers, to ghosts, to creepy clowns, movie monsters have remained a constant fixture on the silver screen over the years, scaring and entertaining crowds every step of the way. With this spooky genre currently experiencing a serious renaissance, we can expect plenty of new horror franchises to pop up in the near future.
That being said, with so many awesome horror franchises out there, it can sometimes be hard to keep track of projects. To help you horror fans out, we have compiled a handy guide of some of the most iconic horror series of all time to provide all of the greatest updates related to the most beloved monster movies. Check out our guide to see the latest news concerning your horror favorite series.
Halloween
Often considered the first real slasher franchise, John Carpenter's Halloween has endured for decades because of its iconic musical score, as well as its perfect monster in the form of knife-wielding maniac, Michael Myers. Rob Zombie rebooted the series in 2007, and we haven't seen much of Mr. Myers since Halloween II in 2009. However, it was recently revealed that Blumhouse has tapped John Carpenter to executive produce a new installment some time in the near future. The upcoming reboot and/or sequel does not yet have a story, a director, or even a release date, but we expect to see Michael Myers butchering babysitters some time within the next few years.
Friday The 13th
Out of all the major slasher franchises, it seems that Friday the 13th is the most likely series to hit theaters next. Although the next installment in Jason Voorhees' spree of Camp Crystal Lake murders was original slated to hit theaters in January 2017, the film was recently delayed for a release on Friday October 13, 2017. Not much is known about the imminent slasher film, but it was recently revealed that The Crazies director, Breck Eisner, may direct the story -- which will focus on Jason's bizarre origins, as well as his relationship with his father. A note to horny camp counselors: you better watch your backs.
Saw
Although the Saw franchise is often credited with bringing the "torture porn" subgenre into the mainstream, we think that seriously undervalues some of the series' incredibly well-crafted stories. After a six-year hiatus from the silver screen, the tale of Jigsaw and his twisted series of life or death games will soon come to a head when Saw: Legacy hits theaters next fall on October 27, 2017. Not much is currently known about the (possibly final) installment in the series, but we expect plenty of dismemberment to occur along the way.
Nightmare On Elm Street
The late Wes Craven's legendary paranormal slasher series has been on ice since 2010's lackluster reboot -- which swapped out Robert Englund for Jackie Earle Haley as nightmare killer, Freddy Krueger. As of now, there don't appear to be any official plans for a new installment in the Nightmare on Elm Street franchise, but Robert Englund has remained incredibly vocal about his desire to bring the franchise back in dramatic fashion. His vision for the future of the franchise revolves around the subjectivity of fear, and how the children of Elm Street are haunted by their own specific version of Freddy. That's a story that we can definitely get behind.
Amityville Horror
Few other paranormal hauntings have become more documented on the silver screen than the legendary Amityville case, and the growing notoriety of Ed and Lorraine Warren with James Wan's Conjuring franchise has only served to amplify that infamy.. Inspiring no less than 17 films over the course of the last four decades, the Amityville Horror franchise hasn't slowed down in recent years. The film series based upon the legendary New York haunting will soon return to theaters with Amityville: The Awakening, which is currently slated to hit theaters January 6, 2017.
The Texas Chainsaw Massacre
Arguably no major horror movie slasher has experienced a rougher career on the silver screen than Leatherface. In the years since Tobe Hooper's original Texas Chainsaw Massacre, the skin-wearing serial killer has appeared in sequels, prequels, and remakes ranging from mediocre to downright terrible. However, that may soon change with the next installment of the Texas Chainsaw franchise -- aptly titled, Leatherface. A brand new origin story for the chainsaw-wielding psycho, Leatherface has already completed production, and features a pretty stellar cast, including, Stephen Dorff, Lili Taylor, and Finn Jones. However, while the film has been completed, it does not yet have an official release date.
Child's Play
Much like the Evil Dead franchise, the Child's Play series has developed a cult following over the years for its willingness to embrace its own sense of campiness, as well as its ability to dive headfirst into the realm of self-aware comedy. However, that doesn't mean it has stopped delivering scares along the way. We last saw Brad Dourif's killer doll, Chucky, during the events of 2013's Curse of Chucky, and it seems that the franchise will soon make its way back to the silver screen for another outing. The seventh installment in the Child's Play series (tentatively titled Chucky 7) is currently slated hit theaters sometime in 2017.
Your Daily Blend of Entertainment News
Originally from Connecticut, Conner grew up in San Diego and graduated from Chapman University in 2014. He now lives in Los Angeles working in and around the entertainment industry and can mostly be found binging horror movies and chugging coffee.