Major League: The Cast Then And Now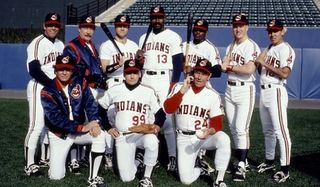 As if 2016 wasn't weird enough, this year's World Series is home to two of the most unlikely teams you'd expect to make the show. With the Cleveland Indians and the Chicago Cubs taking the field for the first of the seven possible games tonight, a lot of die-hard fans of each ball club are probably performing their seasonal rituals and dusting off some extra magic for the fall classic, all in the name of the big win. Lucky for us, there are two well-remembered movies that help us here at the CinemaBlend offices get into the action, and both films have us asking the same question: where are they now?
Today we'll be looking at the 1989 comedy classic Major League, the story of the Cleveland Indians' (fictional) rise from the bottom to the top of the American League's standings. With a cast of some heavy hitters, the histories that came before and after several of the cast members' professional lives have lead to some interesting career paths. And there's even one cast member that bridges today's pick and tomorrow's Chicago Cubs favorite. And now, the warm ups are finished, and it's time to take the field. Here now are you Major League co-stars then, and now.
Bob Uecker
With his hard hitting analysis as Cleveland Indians announcer Harry Doyle, the man clung to his drink as much as he did hope for his precious Indians. In real life, Uecker had experience on both sides of the microphone in the major leagues, as for five years, Bob Uecker was a ball player himself. Most recently, there was a petition flying around to get Uecker to call the World Series games for this year.
Tom Berenger
If every story needs a helpless romantic, then Tom Berenger's Jake Taylor more than gamely fits the bill. His career before Major League saw him in three of the biggest hits of the 80's: The Big Chill, Eddie and The Cruisers and Platoon. As for the rest of his career, there were some solid hits with films like Gettysburg and Inception. More recently, Berenger was spotted playing the father of Danny "Danno" Williams on CBS' Hawaii Five-O.
Rene Russo
Lynn Wells was the one that got away for Jake Taylor, and playing that role was Rene Russo. Before Major League, her resume had only one credit: a role on a short lived ABC series named Sable. Her biggest break would come a couple years after that film, as Sgt. Lorna Cole in 1992's Lethal Weapon 3. More recently, Russo has been seen in the Thor franchise, Nightcrawler and The Intern.
Charlie Sheen
Rick "Wild Thing" Vaughn is probably the most appropriate casting decision ever made in Charlie Sheen's career. Before his spot on the line-up, Sheen has already made appearances in everything from Badlands to Platoon. Charlie Sheen would go on to be known in his later career as Charlie Harper on Two and a Half Men. Though don't be surprised if his familiar face ends up showing up during the game tonight, and in full character mode.
Wesley Snipes
Willie Mays Hayes is one of the biggest braggards of the Majors if Major League has anything to say about it. Major League is arguably Wesley Snipes' breakout role, and he shined like a damned diamond as Willie. But if there was one thing Snipes is most famous for, it's his role as Marvel's bad assed daywalker in the Blade trilogy. Here's hoping he gets to play that role in the MCU someday.
Corbin Bernsen
There's only one man in Major League's line-up that could out pretty boy Willie Mays Hayes, and that's infielder Roger Dorn. Corben Bernsen made a big splash with his comedic chops in Major League, after a lot of TV work had made him famous. Later on, he'd a pivotal role in Shane Black's Kiss Kiss Bang Bang, but is probably best known as Henry Spencer, Shawn's father, from the USA's hit comedy Psych.
Dennis Haysbert
Pedro Cerrano believes in two things: baseball and voodoo. With a trademark voice that mixes silk, gravel and authoritative power, Dennis Haysbert found himself playing a lot of policemen and military officers in TV shows like Laverne and Shirley before landing his role in Major League. His later work saw him on the hit drama 24, as well as in Ted 2 and Brooklyn Nine-Nine. He also happens to be the voice of Allstate Insurance.
Neil Flynn
When the 1989 Cleveland Indians unveiled their roster of no-names and has-beens in Major League, there was one longshoreman who said what was on everyone's minds: "Who are these fuckin' guys?" That was Neil Flynn's film acting career getting its start. Before his first film credit, Flynn was already a prolific TV actor. After this film, he'd see himself in projects like The Fugitive and Mean Girls on the film side, and shows like ABC's The Middle and NBC/ABC's Scrubs.
Keep in mind that there's one film role of his we haven't mentioned, and it's a doozy because it's the other half of our World Series celebration. He's the only clue were going to give you, so you'll have to do some research and come back to us with your answers in the comments section. We'll see if you're right when we turn our attention to a specific film that features the Chicago Cubs, as we come back tomorrow with another World Series themed "Then and Now."
Your Daily Blend of Entertainment News
Senior Movies Contributor
CinemaBlend's James Bond (expert). Also versed in Large Scale Aggressors, time travel, and Guillermo del Toro. He fights for The User.