Psych Comic-Con 2012 Live Blog: Season 7 Details, The Musical Episode, Jeffrey Tambor Guest Appearance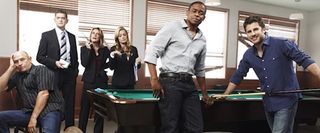 Psych is representing USA's original programming at Comic Con in San Diego this year, and we're here in Ballroom 20 to live blog the panel, which is set to feature stars James Roday (Shawn Spencer), Dulé Hill (Burton "Gus" Guster), Maggie Lawson (Juliet O'Hara),Tim Omundson (Carlton Lassiter), Kirsten Nelson (Chief Karen Vick), and Corbin Bernsen (Henry Spencer). Also expected to join the panel are Psych creator Steve Franks and executive producer Kelly Kulchak.
With Psych approaching its seventh season and its milestone 100th episode ("100 CLUEs"), it should be interesting to see what the cast and writers have to tell fans about what's ahead.
This is Ballroom 20's first panel of the day and the room is packed. The panel should be starting at 2:15 p.m. PST so be sure to refresh in a bit to check for updates!
2:18 p.m. PST - The panel opens with a video introduction from a wrestler I'm pretty sure is John Cena, after which the cast was introduced one by one. Each of them got huge applause, but of course, the biggest was saved for Dule HIll and James Roday. After Tim Omundson drinks some pineapple juice, we get a preview video giving us a look at the upcoming season.
SPOILERS HERE
2:25 p.m. Looks like we're in for a Blair Witch-ish found footage episode, with Shawn and Gus running through the woods. And there's a great hugging moment with Lassiter and Shawn. Then, of course, there's the Clue-themed episode. Great moment when we see them running through a big mansion and a funny nod to the counting of the bullets scene from the movie (one-plus-two-plus-one-plus-one). Then things get majorly serious. Shawn's dad gets shot! What follows is sad and then majorly intense as we see Shawn dealing with the scary moments and then is determined to find the man who shot his father. I got chills.
2:30 p.m. Corbin Bernsen is brought out onto the stage, and after what we were just shown, as you can imagine, the crowd went nuts for him. And now we're watching a slide-show of photos from the sut. Some posed shots and candids, a couple of which have Dule asleep in various places. 2:33 p.m. - James talking about "shafts of light" and then directing an episode. Maggie talks about "acting the shit out of this scene," a phrase she and Tim say to one another quite often. Kirsten is asked which cast member she'd make out with. She says Maggie.
2:36 p.m. - Kirsten says she loves working with Steve Franks. "He has the most incredibly excited, enthusiastic love for what he does," she says. She calls it "infectious." Steve Franks says he's crazy with "the positivity." He says this is the most fun job he's ever had ("and that includes working at Disneyland, folks.") Corbin's least favorite scene to have shot (SPOILER) is "getting shot." He says he doesn't know if he has a job! (uh-oh!)
2:39 p.m. - James and Dule singing the "Boom from the Bottom" song. They're hilarious. Apparently this song has to do with the boom operator, who sometimes holds the boom mic from the top and is told to "Boom from the bottom." They also have a song called "We are out of here" that they sing when they're close to finishing a scene.
2:42 p.m. Question time! First questioner asks if there will be a Season 8. Lots of cheers but unfortunately no definitive answer for this other than a vague remark about contracts. Someone asked James about the necklace he wore one season. James says the necklace he has on now means ohm (or ahm, as he pronounced it). The story behind the necklace he wore on the show is that the costume person asked him if he wanted to wear a necklace.("That was real deep," Dule in response to James' story). Someone asks about future theme episodes and someone yells out Star Wars but it sounds like the budget would be an issue for that.
The musical episode is partially written. It's going to be a two-hour episode. Steve Franks sang a brief tune from it, part of which went, "It's a murder capital of the world..."
2:48 p.m. - James says Some Kind of Wonderful is Eric Stolz' best movie. (I agree). They're talking about who's the best singer now. Everyone names someone different, then Dule sings. Corbin's now talking about Henry. Says Henry would be an assassin if he weren't in law enforcement. His weapon of choice would be a pie.
2:53 p.m. - Will Yang be back this season. James Roday: "I'm certainly not going to say no, because she's still alive." Dule says he geeked out over getting to meet Lionel Richie, Kelly says she geeked out over William Shatner. Lots of cheers for that. Maggie agrees about Shatner.
2:55 p.m. - Jeffrey Tambor will appear this year. Maggie says he's playing her step-dad. "I have the two coolest dad ever, and a pretty dope brother."
2:57 p.m. - They're playing a game called Psych-off. A group of fans are on stage and they have a microphone and buzzers. Omundson is asking them questions about Lassiter. One fan missed the question about his ex-wife's name. Now they're listing off episode titles. Next round is Gus' nicknames. Winner gets a bunch of Psych-themed prizes.
3:04 p.m. - Audience questions. Someone asks about the pineapples in each episode. It sounds like the art department is in charge of that. Dule's mother just called. He put her on speaker. Everyone cheers. Back to audience questions, an adorable little girl asks how come there's pineapples in each episode. Steve Franks says it's because he spent 8 years working at the Tiki Room in Disneyland. No idea if he's kidding or not but that's a funny answer.
3:07 p.m. - Someone asked if Shawn and Gus switched bodies for a day, what would they do? James says he would try to dunk. Dule says he'd fail. Then Dule said he'd get a Twitter account. Someone asked about the backstory for Shawn's decision to start the detective agency. Omundson humorously suggests checking out the pilot. Now they're talking about when they all first read the pilot script and what they thought about it.
3:10 p.m.- Coming February 19, 2013 - The Psych's Guide 2 Crime Fighting for the Totally Unqualified book hits shelves! There's a picture of Shawn and Gus on the cover.
3:12 p.m. - Panel is closing with one last video. It's called "100 episodes in 200 seconds." Flashbacks of great moments from the course of the seres play. Funny moments, hero moments and classic moments are shown And then snippets of the episodes in Season 7 leading up to Ep 100.. Hopefully they'll put this online soon so fans can watch it. And that wraps it up!
Your Daily Blend of Entertainment News
Assistant Managing Editor
Kelly joined CinemaBlend as a freelance TV news writer in 2006 and went on to serve as the site's TV Editor before moving over to other roles on the site. At present, she's an Assistant Managing Editor who spends much of her time brainstorming and editing feature content on the site.
Your Daily Blend of Entertainment News
Thank you for signing up to CinemaBlend. You will receive a verification email shortly.
There was a problem. Please refresh the page and try again.