The Awesome Way Transformers Fans Helped Celebrate The End Of Transformers 5 Filming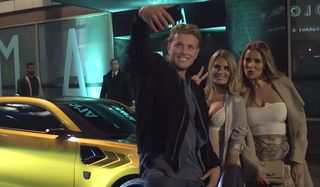 It's become evident that the stars of Michael Bay's Transformers: The Last Knight will be the cars, themselves. (A novel concept for a Transformers franchise that has placed a ton of emphasis on the likes of Mark Wahlberg, Shia LaBeouf, Megan Fox and the rest of the human cast.) So much of the viral marketing surrounding the Transformers: The Last Knight shoot centered on Bumblebee, Crosshairs, Barricade and the rest of the Autobots and Decepticons, so it only makes sense that the wrap party, thrown at London's hot nightclub Drama, would show the cars taking pictures with hot clubgoers. Watch the clip below:
Michael Bay and his Transformers: The Last Knight crew have been filming in Scotland and England for weeks now, often posting set videos of Facebook live shots giving fans incredible access to the director's process. We have seen Sir Anthony Hopkins filming at a castle, Mark Wahlberg balancing on a rig that turns his world upside down, and plenty of shots of the sports cars racing around town (including a scene shot on the long stretch of road leading away from Buckingham Palace).
This new video is celebratory. It shows the Autobots hitting the town, and I love how it plays up the idea that they are living, breathing celebrities that would cause a stir when they pull up to the curb in front of the club. Beautiful, model-worthy Londoners strike poses in front of Bumbleebee:
And fans want to make sure that they are spotted in the selfie with the true "stars" of Transformers: The Last Knight.
We take this to mean that filming is completely done on Transformers: The Last Knight, as Bay suggested in his most recent Facebook post. The sequel -- the fifth in the ongoing franchise -- remains a bit of a mystery, and everything that we end up hearing about it only raises more questions. For example, Mark Wahlberg continues playing the awesomely named Cade Yeager from Age of Extinction. So there's a contemporary element to this new Transformers. Only, we ALSO know that there are scenes set in WWII-era England, and sequences that include medieval knights, as well as confirmed rumors that Merlin and the Knights of the Round Table will factor into the story.
So yeah, this will be unlike any Transformers movie we've ever seen before. And that's a good thing, right? When Paramount put together its Writers' Room for conjuring fresh concepts, they wanted to pull off crazy, fresh and new ideas. Will they work? We'll find out when Transformers: The Last Knight opens in theaters on June 23, 2017.
Managing Director at CinemaBlend. ReelBlend cohost. A movie junkie who's Infatuated with comic-book films. Helped get the Snyder Cut released, then wrote a book about it.