Starship Troopers Is Getting Rebooted, Find Out Who Is Involved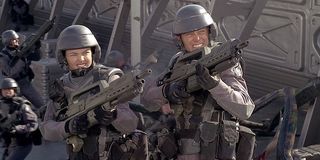 Robert Heinlein was one of the greatest sci-fi writers of the 20th century, so naturally some of his stories would be adapted as feature films. The most famous of the bunch is Starship Troopers, and while that movie earned a lot of mixed-to-negative reviews, it has remained a cult favorite. Nearly 20 years after that movie's release, this story has joined the ever-growing list of properties being rebooted, and it already has writers and a producer attached.
According to THR, Columbia Pictures has hired Mark Swift and Damian Shannon, the same writers who tackled the upcoming Baywatch reboot, to pen the new Starship Troopers script. Neal Mortiz from the Fast & Furious franchise will produce the reboot alongside Toby Jaffe, the same man with whom he worked on the 2012 Total Recall remake. It's also important to note that the new Starship Troopers (which Columbia hopes will launch a franchise) supposedly won't remake the 1997 movie. It will instead look to the original novel for inspiration, which followed a soldier named Johnny Rico who was a soldier fighting in a war between humanity and killer bug aliens. In other words, we likely won't get the same satirical tone from the movie that starred Casper Van Dien, Dina Meyer and Neil Patrick Harris, among others.
This isn't the first time a Starship Troopers reboot has been attempted. Back in 2011, Neal Mortiz tried to put the project together with writers Ashley Edward Miller and Zack Stentz, but that iteration obviously never moved forward. There was also a TV show discussed, but now it looks like Moritz finally has a new team to tackle the cinematic reboot, and this time around, they're aiming to be more faithful to the original Starship Troopers novel. Released in 1960, the book earned similar mixed reception as the 1997 movie later would, with some folks thinking it was outright dull to the tale winning a Hugo Award for Best Novel. However, the novel was also accused of having elements of racism and fascism, so even though this movie will hopefully be a close adaptation, changing certain aspects for a modern audience may be unavoidable.
In contrast, 1997's Starship Troopers movie was a loose adaptation, as director Paul Verhoeven licensed the title for an unrelated script called Bug Hunt at Outpost Nine. Some character names and plot details from the novel were retained for the final product, but Verhoeven opted for a satirical approach to the material, with the main message (according to him) being "Let's all go to war and let's all die." Despite the less-than-stellar reception, that movie was nominated for the Academy Award for Best Visual Effects, and it also spawned three direct-to-video sequels.
We'll keep you apprised on how the Starship Troopers reboot is progressing as more news come in, but for now, let us know what you think of a new take coming down the pipeline in the comments below.
Your Daily Blend of Entertainment News
Connoisseur of Marvel, DC, Star Wars, John Wick, MonsterVerse and Doctor Who lore. He's aware he looks like Harry Potter and Clark Kent.