The Two Star Wars Heroes Rogue One's Jyn Erso Is A Blend Of, According To Felicity Jones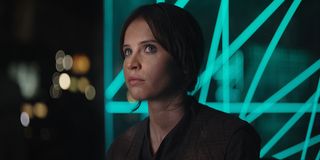 Felicity Jones has admitted that she didn't have to go too far for inspiration when she was developing the character of Jyn Erso for Rogue One. She's revealed that, to her, the Alliance member is a mesh of the iconic Star Wars heroes Luke Skywalker and Han Solo.
The 33-year-old actress, who was previously nominated for a Best Actress Academy Award for her portrayal in The Theory Of Everything, made this admission to Glamour magazine as part of its December issue. Felicity Jones insisted that Jyn Erso is a "rather beautiful blend of Luke Skywalker and Han Solo," before insisting that she's playing a "very contemporary, kickass Disney princess."
There were obviously numerous reasons why Felicity Jones jumped at the opportunity to join the Star Wars universe, and during her discussion with the publication, she broke down why it was so rare to be given such an opportunity. Felicity Jones explained:
We've already been given glimpses of what Felicity Jones' portrayal of Jyn Erso will be like in the numerous Rogue One trailers that have been released in the build-up to the sci-fi blockbuster. If you need a reminder of both Felicity Jones' prowess as an actress and why the entire cinematic community is so preposterously excited for Rogue One, then just have a quick gander at its trailer below.
While Felicity Jones' comments could be dismissed as the usually patter that actors roll out around the release of their films, there's actually something to her revelation that Jyn Erso is a combination of both Han Solo and Luke Skywalker. Like Harrison Ford's smuggler, Jyn Erso has been on the wrong side of the intergalactic law. Even the above footage shows her having been locked up for her past indiscretions, and there's obviously a rebellious streak to her.
Meanwhile, the trailer and clips for Rogue One have suggested that, even though she's a new recruit, Jyn Erso is also an eager, fierce and loyal soldier to the Rebel Alliance, just like Luke Skywalker in A New Hope. Also, like Luke, she's probably going to have a fractious relationship with her father, as she was separated from him at the age of 15. He went on to become a member of the Galactic Empire, helping to build the Death Star. However, the fact that his message detailing the imminent testing of the super weapon was intercepted by the Rebel Alliance suggests he might have some regrets about his affiliation.
All will be revealed soon enough, because _Rogue One: A Star Wars Story _is now tantalisingly just a few weeks away as it will be released on December 16.
Your Daily Blend of Entertainment News