The Mummy Trailer Unleashes Chaos Mid-Flight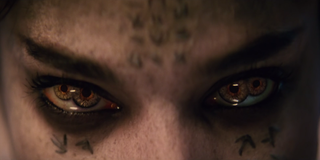 Brendan Frasier's Mummy trilogy served as decent swashbuckling-style movies from 1999 to 2008, but now the franchise is moving back towards its horror roots, while still retaining a good dose of pulse-pounding action and excitement. Next year, The Mummy reboot will officially kick off Universal's Monster Cinematic Universe, and after providing a quick tease this past Thursday, the studio has finally released the first trailer for the blockbuster. Check it out!
It seems like business as usual for the people aboard this plane when The Mummy trailer kicks off. They're just escorting a sarcophagus that's been discovered in the desert back to be researched. Nothing bad can happen with that, right? Wrong! Suddenly, the aircraft starts shaking for no reason, and then the shit hits the proverbial fan when a swarm of birds crash into the plane, causing it to break apart and start spiraling down to the ground. Our main human protagonist, Nick Morton, manages to get Jenny Halsey away by activating her parachute, but he and the other occupants aren't so fortunate. This is what happens when you mess with ancient mystical forces, guys!
If that wasn't unusual enough for you, this preview for The Mummy takes a turn for even weirder territory when we see a room containing the plastic-wrapped bodies of presumably everyone from the plane. Suddenly, Nick Morton awakens, with no explanation of how he survived or if the other folks in plastic will also miraculously start breathing again. Whatever is going on here, one thing is made clear by Dr. Henry Jekyll's narration: these characters are in a new world now. A world of monsters. The first being that will terrorize mankind in the present day is the Mummy herself, who is now awake and able to do a weird iris-splitting trick.
From there, The Mummy trailer shows quick snippets of the chaos that the eponymous monster will spread across the globe, from Egypt to England. Compared to the previous series of Mummy movies, the reboot definitely looks like it will do a better job of combining action with sheer horror. Of course, this is just the opening salvo, as Universal is using The Mummy to launch their shared universe of classic monsters, which will include the Wolf Man, the Invisible Man, the Creature from the Black Lagoon and Frankenstein. Judging by his dialogue in this trailer, it seems like Henry Jekyll will serve as one of the main connective threads between these stories. That's ironic, since he will eventually become one of these monsters when he transforms into Mister Hyde. Still, it's best to deal with one problem at a time, and right now, the Mummy is putting the entire world in danger.
The Mummy reboot will follow an ancient queen who has been long buried in a crypt underneath the desert after her destiny was snatched away from her. Awakening in the present day, the malevolence she's accumulated over thousands of years will be unleashed. The movie's main cast includes Sofia Boutella as the eponymous monster (a.k.a. Ahmanet), Tom Cruise as Nick Morton, Annabelle Wallis as Jenny Halsey, Courtney B. Vance as Colonel Gideon Forster and Russell Crowe as Dr. Henry Jekyll.
The Mummy hits theaters on June 9, 2017.
Connoisseur of Marvel, DC, Star Wars, John Wick, MonsterVerse and Doctor Who lore. He's aware he looks like Harry Potter and Clark Kent.
Your Daily Blend of Entertainment News
Thank you for signing up to CinemaBlend. You will receive a verification email shortly.
There was a problem. Please refresh the page and try again.