Is Star Trek 4 Getting Underway? Simon Pegg Is Hinting At It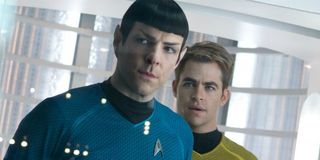 It's hard to know exactly what's going on with Star Trek 4. Its predecessor Star Trek Beyond didn't fare too well at the box office, grossing just $343.5 million, which was $123.9 million less than Star Trek Into Darkness. But at the same time it was met with positive reviews, while even before its release it was revealed that Chris Hemsworth would return as George Kirk in the fourth installment. It looks like that's still the plan, too, because Simon Pegg has taken to Twitter to upload an image of himself and Doug Jung working at Bad Robot, which suggests they're currently breaking down Star Trek 4.
Simon Pegg hinted that he and Doug Jung, who he co-wrote Star Trek Beyond with, were spending all day working on Star Trek 4 on Tuesday afternoon with the following image from Twitter:
Just to prove that the duo's location, they also made sure that a Bad Robot statue was in the picture. They also seemed to have re-arranged the statue so it looked as though it was dancing, too.
There's not too much more that we can read into the above picture, other than the fact that it looks as though it is full steam ahead with Star Trek 4. As I mentioned before, the fact that Star Trek Beyond proved to be the least successful of the rebooted Star Trek franchise (it even grossed $42.2 million less than the 2009 original) meant that it was still up in the air whether or not Bad Robot and Paramount Pictures would proceed with the franchise.
But the image suggests that they've decided this was just a minor set-back. There's still a good chance that Star Trek 4's budget won't be quite as high as the $150 million that was provided to Justin Lin for Star Trek Beyond, but the allure of pairing up Chris Pine's Captain James T. Kirk and Chris Hemsworth's George Kirk might have just been enough to give the franchise a new chance.
Which is great to hear, too. Because Chris Hemsworth's performance in the opening scene of 2009's Star Trek was so impressive that it convinced Kenneth Branagh to cast the Australian in Thor, and that proved to work out quite well for the actor. You can remind yourself of why it was deemed so stupendous by watching the opening sequence of Star Trek again below:
It has already been confirmed that most of the Star Trek Beyond cast will also return for Star Trek 4, while it has been decided that Anton Yelchin won't be recast as Chekhov. Stay glued to CinemaBlend over the coming weeks and months for further news regarding Star Trek 4.
Your Daily Blend of Entertainment News
Thank you for signing up to CinemaBlend. You will receive a verification email shortly.
There was a problem. Please refresh the page and try again.