Full Rogue One International Trailer Overloads On Battle, Is The Best One Yet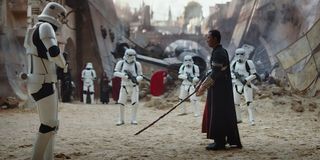 Rogue One: A Star Wars Story is almost upon us, and while there are plenty of TV spots and interviews with cast members to look forward to, you'd think Disney and Lucasfilm would have winded down on the full-length trailers. Not so! Tonight, the official Chinese trailer dropped, adding a few new scenes into the mix and providing some of the best action moments yet. Check it out!
The newest Rogue One preview kicks off with a familiar moment from the last few trailers: Orson Krennic (Ben Mendelsohn) confronting Galen Erso (Mads Mikkelsen), with his daughter Jyn watching nearby. From there, we hit the familiar beats of the Rebellion recruiting Jyn as an adult (Felicity Jones) to tell her about the Death Star and task her with finding her father, one of the battle station's chief creative minds. However, then the trailer throws in some new scenes, like Cassian Andor (Diego Luna), listing the type of people he's recruited for the Rebellion. This includes Bodhi Rook (Riz Ahmed), a former pilot for the Empire; K-2SO (Alan Tudyk), the reprogrammed Imperial enforcer droid; Chirrut Îmwe (Donnie Yen), a blind warrior capable of beating the hell out of stormtroopers with just a staff; and Baze Malbus (Jiang Wen), Chirrut's blaster-loving friend.
This unusual group of Rebels will be the main players of Rogue One, the first of the standalone Anthology spinoffs. As they push to deal more blows against their Empire, their mission will result in some intense ground battles and space assaults. By now, anyone who's seen a piece of Rogue One marketing knows that this is serving as a direct lead-in to A New Hope, the movie that started all. The Death Star and Darth Vader make that clear to even the most casual of moviegoers. This trailer's job is to tease more of the action the movie will be throwing our way.
One of this Rogue One trailer's highlights was getting to see a little more of Chirrut Îmwe at work. I especially got a kick out of him taking out that TIE Fighter with what looked like a bow and arrow blaster. That being said, the moment where those Rebels were setting the charges and blew up that Imperial ship (or at least that's how it was cut to look) was amazingly cool. That moment also provided a quick glimpse of platoon leader Pao, one of the many aliens who will be lending a hand to the main team. Star Wars movies have always been filled with action, but Rogue One looks like it's on a whole other level of excitement.
Rogue One: A Star Wars Story will be released in the United States next Friday, December 16, with the Chinese release following on January 6, 2017.
Connoisseur of Marvel, DC, Star Wars, John Wick, MonsterVerse and Doctor Who lore. He's aware he looks like Harry Potter and Clark Kent.