Weekend Box Office: Moana Holds Top Spot For Third Weekend, Office Christmas Party Settles for Close Second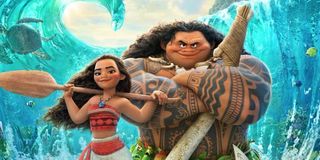 Office Christmas Party launched into theaters this weekend but couldn't muster enough holiday enthusiasm to knock the wind out of Moana's sails.
Moana held the number on spot for a third weekend in a row, adding $18 million to its $145 million total. At this point Moana is a few million dollars ahead of where Frozen was on the same day of release, but it's yet to be seen if it will have the same holiday endurance that carried Frozen to $400 million.
Office Christmas Party bowed in at second place with $17 million, a slow start against its $45 million production budget. That might not have been a problem if it had started out last weekend, but now it faces immediate steep competition from Rogue One and Why Him? over the next couple of weekends, a situation that historically leaves the lesser rated-R comedy disappearing fast and quiet.
Fantastic Beasts and Where To Find Them fell just shy of $200 million taking third place on the weekend with $10 million. It remains the only wizarding universe movie to miss that mark by the end of its fourth weekend, but remains a solid performer.
Bad Santa 2 took another hard hit this weekend, slipping from 8th to 13th place, and has banked only $16 million against a $26 million total. It has yet to see any release internationally, which might eventually help out its numbers, but unless that developes it's a safe bet that a third won't develop to torture audiences.
$50,000 per screen is considered a huge success for movies opening very small release. La La Land arrived in just five venues, banking $85,000 in each. The strong start, along with stunning critical support, has the movie earmarked for major awards attention, but larger box office success might have to wait until after nominations arrive.
For the full weekend top ten, check out the chart below:
Your Daily Blend of Entertainment News
Thank you for signing up to CinemaBlend. You will receive a verification email shortly.
There was a problem. Please refresh the page and try again.