How The Power Rangers Movie May Use The Putties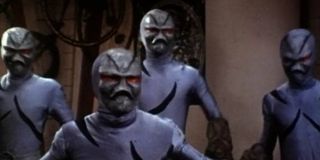 Slowly but surely, we have started to receive more and more glimpses at the upcoming Power Rangers reboot - and although the DNA of the original series is readily apparent, it's no secret that many fundamental elements from the series have received major overhauls. One such element that we haven't really seen yet is the iconic Putty Patrol -- a team of bad guys that will forever haunt our nightmares. However, we now know a bit more about how they factor into the story of Power Rangers, and it seems that they will be a vital part of some seriously evil schemes.
A new report from The Wrap seems to indicate that the Putty Patrollers will take on a fairly familiar role in the upcoming Power Rangers reboot. Based upon rumors and reports, it sounds like the Putties will once again make up the primary foot soldiers under the control of Elizabeth Banks' Rita Repulsa. The report suggests a scene in which the evil sorceress tries to steal gold bullion from a Russian bank while accompanied by these iconic, mindless drones. Beyond that, the Putties will also challenge the Rangers to a battle at least once throughout the run of the film, thus ensuring some awesome hand-to-hand combat sequences.
The description of the Putties, as well as the role that they play in Power Rangers, makes plenty of sense to fans of the Power Rangers lore. The nightmarish foot soldiers have always represented the first line of defense for Rita, as their numbers tend to make them a threat. Once the Putties have been dispatched, Rita typically goes deeper into her arsenal and sends more imposing threats down to face off against the Rangers.
However, we should note that a gold theft definitely seems a bit odd for a Power Rangers story. Rita Repulsa's schemes in the original series were often much grander in scale, and rarely delved into the territory of theft or bank robberies. It's doubtful that she wants the gold for financial gain, so perhaps she will ultimately use it in order to create the armor for her muscle-bound enforcer Goldar (pictured above). We will have to wait and see.
Of course, this report still doesn't really provide any real indication as to what the Putty Patrollers will look like in the upcoming Power Rangers reboot. Pretty much every aspect of the Power Rangers lore has been completely redesigned for this new generation, making it almost impossible to predict where the film will take their look. The rumors from the set suggest that the Putties are now carved out of stone (as opposed to molded out of clay), which means they will likely have a far more intense and imposing appearance than we're used to seeing. One has to wonder, though, if they will still have that strange button on their chest that makes them immediately disintegrate as soon as its touched.
As we get closer to Power Rangers release date in early 2017, we will surely be hearing a lot more about the film, so stay tuned for all up-to-date details The reboot will morph its way into theaters on March 24, 2017, and you can check out the first official trailer for Power Rangers on the next page for a better look at the upcoming reboot of the classic 1990s series!
Originally from Connecticut, Conner grew up in San Diego and graduated from Chapman University in 2014. He now lives in Los Angeles working in and around the entertainment industry and can mostly be found binging horror movies and chugging coffee.
Your Daily Blend of Entertainment News
Thank you for signing up to CinemaBlend. You will receive a verification email shortly.
There was a problem. Please refresh the page and try again.