How Power Rangers Improved On Rita Repulsa, According To The Director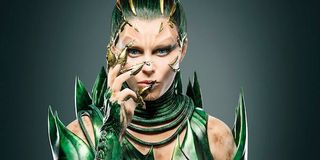 As popular as Mighty Morphin' Power Rangers was back in the 1990s, there's no getting around the fact that it was a glorified cheese fest almost every week. One of the ways the figurative dairy was delivered was through one of its main antagonists, Rita Repulsa. As powerful as she was, the villainess was mainly a source of comic relief, rarely venturing outside of her lair and complaining in a shrill voice whenever her plans were foiled. That's why when it came time to make the Power Rangers reboot movie, it was important that the filmmakers make some adjustments to Elizabeth Banks' Rita Repulsa, namely adding some dramatic flair.
Speaking with THR after the Power Rangers panel at New York Comic-Con this past weekend, director Dean Israelite commended Elizabeth Banks for her performance as Rita Repulsa, noting she's more intimidating, yet still staying true to the character's spirit. He explained:
When the first image of Elizabeth Banks as Rita Repulsa was released back in April, longtime Power Rangers fans could tell right away that they'd be getting a significantly altered Rita compared to the one seen on TV more than two decades ago. Instead of being dressed like a space witch, this version is wearing green, scaly armor, which gives off much more of an alien vibe. Then another image came out showing Rita attacking the Yellow Ranger in her bedroom, a scene which was slightly elaborated upon in the recently-released trailer. Clearly she's a bad guy who doesn't mind getting her hands dirty fighting the Rangers personally. However, it's like Dean Israelite said, Banks' Rita will still be insane and have humorous moments. This movie simply provided an opportunity to take her somewhere the TV series never did.
Despite the added clarification on her personality, there's still a lot to be revealed about the Power Rangers reboot's version of Rita Repulsa. What we can expect is that like her TV counterpart, she'll lead an alien force to invade Earth, and she'll presumably still have ties to the Rangers' mentor, Zordon. Some fans have also speculated that this Rita will have a closer connection with the future Green Ranger, not only by her verdant look, but also that her staff (seen in leaked set photos) appears to contain the Green Power Coin at the top.
You can see Rita Repulsa wage war against the five teenagers with attitude when Power Rangers is released on March 24, 2017.
Connoisseur of Marvel, DC, Star Wars, John Wick, MonsterVerse and Doctor Who lore. He's aware he looks like Harry Potter and Clark Kent.
Your Daily Blend of Entertainment News
Thank you for signing up to CinemaBlend. You will receive a verification email shortly.
There was a problem. Please refresh the page and try again.