Tom Holland Describes Spider-Man's Scariest Scene To Film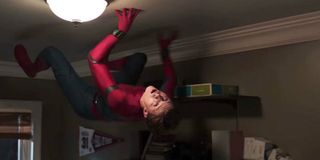 While there are obviously many perks to the job, being Spider-Man is a pretty tough job. Not only do you have to spend your days being flung around a set in a harness, potentially making yourself nauseous, but it's rather dangerous, too. There's one scene in Spider-Man: Homecoming that proves this quite emphatically, as it sees the webbed wonder having to dive into a lake while flying under a helicopter. It turns out Tom Holland was told that he couldn't perform in this sequence because it was just so dangerous, but he's now freely admitted that it was by far the scariest scene he saw shot during production.
The 20-year-old British actor made this admission during his recent Facebook Live chat to promote the release of Spider-Man: Homecoming's first trailer, which took the internet by storm immediately after it was uploaded on Thursday night. From the sound of things, Tom Holland is going to get into a little trouble because of his reveal, too. But that didn't stop him. Said Holland,
Clearly Tom Holland was put under strict instructions not to reveal too much more regarding Spider-Man: Homecoming, but he just couldn't keep his big British trap shut as he went on to describe what sounds like its going to be one of the most audacious sequences in the entire blockbuster.
There was already plenty for us to adore from Spider-Man: Homecoming's debut trailer, which gave us a sneaky peak at the blockbuster's action, scope, humor, and Michael Keaton's devilishly evil villain Vulture. You can check it out in all of its glory for what I'm assuming is the umpteenth time by clicking below.
Now the countdown is well and truly on for Spider-Man: Homecoming. Directed by Jon Watts, who was brought on board after his sterling work on Cop Car, the film stars Tom Holland and Michael Keaton, and they will be joined by a stellar supporting cast that also includes Zendaya, Logan Marshall-Green, Bookeem Woodbine, Donald Glover, Jacob Batalon, Laura Harrier, Tony Revolori, Marisa Tomei, and some guy Robert Downey Jr. Look for the blockbuster when it hits theaters on July 7, 2017, and be sure to stay tuned here on Cinema Blend in the coming months for all of the latest updates about the movie.
Your Daily Blend of Entertainment News