Someone Made A Real Life Batman Grappling Gun, And It's Awesome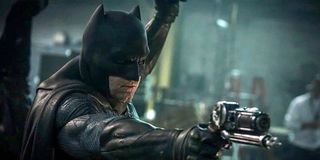 If there's one specific thing that Batman has become known for over the years, it has to be his belt full of toys. From his cape to the Batmobile, the guy has used his vast resources to make some truly remarkable weapons and gadgets throughout his career. However, arguably no aspect of his crime-fighting arsenal has become more integral to his mission than his grappling gun. It's a weapon that any self-respecting Batman fan would want to own, and it seems that one skilled Bat enthusiast recently managed to make one of his very own. Check out the video below to see for yourself.
As you can tell from that video, the Hacksmith has definitively established his nerd credentials with that awesome DIY project. After fashioning a legitimately bat-shaped hook, the video then shows the YouTuber create a functional gun that uses gases to fire the hook out at high velocity. The gun ends up becoming so powerful that it even manages to actually fire a hole into a wall with pinpoint accuracy; Lucius Fox would be proud.
There's really only one thing missing from this video: actual climbing. Alas, that's a story for another installment on this particular YouTube channel. Considering how well designed the actual grappling gun is, we have a distinct feeling that the rope fashioned to help a person climb using the gun will work just fine.
Batman's grappling gun has become one of the most fundamental aspects of his arsenal over the years. Not only does the gadgets allow him to ascend and descend buildings at incredible speeds, but he has also found a number of alternative uses for it in recent movies. In Christopher Nolan's The Dark Knight, he used the grapple gun to catch Heath Ledger's Joker from falling to his death, and in Batman v Superman: Dawn of Justice it was the first weapon he pulled out of his arsenal while engaging Lex Luthor's men on his mission to rescue Martha Kent. With the character set to return when Justice League finally debuts in theaters, we have a very distinct feeling that the grapple gun will once again factor heavily into his unique style of crime fighting.
With the holiday season officially upon us, I think it's safe to say that I finally know what I want Santa to bring me this year. That grappling gun is a must have for any collector of Batman memorabilia, and a phenomenal tribute to The Dark Knight's arsenal.
CinemaBlend will bring you all of the latest and greatest Dark Knight news as more information becomes available to us. The character will make his next appearance in the DCEU when Zack Snyder's Justice League debuts later this year on November 17, 2017. Stay tuned for more awesome Bat-details!
Originally from Connecticut, Conner grew up in San Diego and graduated from Chapman University in 2014. He now lives in Los Angeles working in and around the entertainment industry and can mostly be found binging horror movies and chugging coffee.
Your Daily Blend of Entertainment News
Thank you for signing up to CinemaBlend. You will receive a verification email shortly.
There was a problem. Please refresh the page and try again.