How Batman's Batmobile Will Be Different In Dawn Of Justice, According To Zack Snyder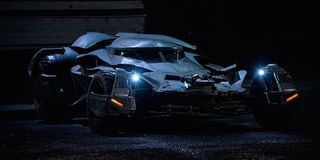 There a few constants when it comes to Batman being adapted for film. There's Bruce Wayne's tragic origin, his cape and cowl, the Batarangs and, of course, the Batmobile. When it comes to that last one, we've seen a lot of different versions of Bruce Wayne's trusty car. The latest one is coming in March for Batman v Superman: Dawn of Justice, and from what we've seen in the previews so far, it's a powerhouse. Now director Zack Snyder has revealed what makes the DC Extended Universe's Batmobile different from the last one seen on the big screen.
Noting how the Batmobile from the Christopher Nolan Batman movies, a.k.a. the Tumbler, was simply a repurposed military vehicle, Snyder told Conan's eponymous host that the DCEU's Batmobile was intended to be the Caped Crusader's ride from the start. Snyder said:
Despite the Tumbler's black paint job, it never really had the same kind of "bat" feel has previous versions of the car, even though it was awesome to see Christian Bale's Batman drive around in it. Batman v Superman: Dawn of Justice's Batmobile, on the other hand, is definitely rocking that Batman vibe, specifically with those "wings" in the back. It's also fitting when you also take into account how Ben Affleck's Batman is wearing a costume more faithful to the comics.
For most of his life, Bruce Wayne has not only been training his body to peak physical condition, but his mind as well. So it makes sense that he picked up some knowledge along the way about how to make his own car; and when you're the head of a massive corporation you have the money to pull off such a project. That said, there's no way he built it completely by himself. In addition to Alfred's help, he probably got a few pointers from someone like Lucius Fox or an unsuspecting employee at Wayne Industries.
Since it was first revealed in September 2014, we've learned about many of this Batmobile's features. Designed by Dennis McCarthy and Patrick Tatopoulos, the car is 20 feet long and 12 feet wide in the back, and unlike other Batmobiles, it's able to rise and lower when doing certain maneuvers. There are also machine guns attached at the front (which isn't the first time a Batmobile has had those), though let's hope that Batman simply uses them to destroy obstacles in his path rather than kill people. Aside from being seen in the trailers, Snyder also drove the Batmobile out to fans during last year's San Diego Comic-Con.
You can hear Zack Snyder's full comments on the Caped Crusader's wheels in the clip below, including what happened when he first stood on it.
The Batmobile will race into action when Batman v Superman: Dawn of Justice is released on March 25, and as Zack Snyder has previously said, moviegoers will see the Batmobile evolve as the DCEU continues.
Your Daily Blend of Entertainment News
Connoisseur of Marvel, DC, Star Wars, John Wick, MonsterVerse and Doctor Who lore. He's aware he looks like Harry Potter and Clark Kent.