Heath Ledger's Joker Diary Reveals Important Clues To His Process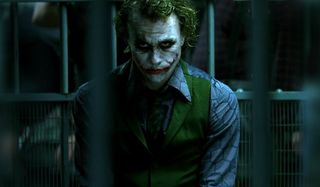 The Joker is arguably Batman's most iconic adversary, and with each new on-screen iteration comes a different interpretation of the villain. It's a rare opportunity that we, the fans, get to go inside the mind of one of these actors preparing for the role, but a clip from a new documentary on the life and career of Heath Ledger reveals the diary he kept in order to capture the character. Watch it below.
Entertainment Weekly reports that the documentary hails from Germany and is titled Too Young to Die: Heath Ledger, and the clip features an interaction with the late actor's father, Kim. As he flips through the pages of the diary, we can see images and clippings from Stanley Kubrick's A Clockwork Orange, a cackling hyena, actual Joker cards from decks, comic strips of the character, and a photograph of a smiling clown. It also appears that Heath hand wrote some of his lines in this diary. "It's simple. Kill the Batman," is scrolled across one of the pages with lines his character speaks in the movie beneath it: "Like my mother always told me, when you're good at something don't do it for free."
According to his father, Heath Ledger would lock himself up in his hotel room or apartment "for a month or so" in order to work out the kinks of the character. He said that sort of action was typical of his son for any movie, but he thought this diary-keeping was "a whole new level."
Sitting next to Kim and the diary in the documentary clip is the Oscar Heath Ledger won in 2009 for his performance in Christopher Nolan's The Dark Knight. The Best Supporting Actor award came to him after his death, and it was presented on stage by former Oscar winners Christopher Walken, Alan Arkin, Kevin Kline, Cuba Gooding, Jr. and Joel Grey. His father, mother and sister went up on the stage to accept the award on his behalf. According to the documentary, it seems that's what he would've wanted. Too Young to Die describes Ledger as someone who deliberately made unwise acting choices in order to avoid fame. He was interested primarily in "the serious art of acting," which is apparent through his journal for the Joker.
As we look ahead, Oscar winner Jared Leto will bring yet another new version of the villain to the screen when Suicide Squad hits theaters on August 5, 2016. While the film features an array of DC Comics villains, including Margot Robbie's Harley Quinn and Will Smith's Deadshot, Leto's tatted-up Joker has been a highlight of the trailer. We can expect something memorable and this version, but even now as we approach the eighth anniversary of his passing, Heath Ledger's performance stands the test of time.
Your Daily Blend of Entertainment News
Thank you for signing up to CinemaBlend. You will receive a verification email shortly.
There was a problem. Please refresh the page and try again.