One Big Issue We Already Have With DC's Planned Gotham City Sirens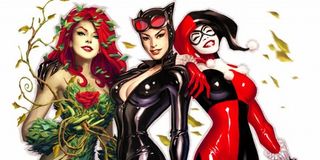 The DCEU has experienced a few strange twists and turns since the early days of Man of Steel, and it's been an undeniably bizarre journey. We've watched the Last Son of Krypton face off against The Dark Knight, we've watched a team of super villains save the world, and soon we will even see a female-oriented villain team-up in the form of Gotham City Sirens. The film's development has been utterly fascinating to watch, but the recent decision to bring Suicide Squad's David Ayer on-board has us somewhat concerned about the overall direction of the film.
For the sake of context, let's get everyone up to speed. Rumors of a Harley Quinn solo movie surfaced as far back as the release of Suicide Squad in August, and those rumors were eventually corroborated a few months ago when we learned that the project would indeed materialize at Warner Bros, with Margot Robbie serving as an Executive Producer. The project became even more intriguing last month when it was announced that the female crime fighting team, The Birds of Prey, would appear in the film. Finally, the project truly came together with the recent announcement of a genuine Gotham City Sirens movie, which will include Poison Ivy and Catwoman, with Geneva Robertson-Dworet replacing Christina Hodson as the film's screenwriter.
While that's quite a mouthful, it all comes back to one core thesis: Gotham City Sirens is a movie made for women by women. This idea is nothing new, as Gal Gadot has similarly voiced the opinion that Wonder Woman needed director Patty Jenkins in order to get the female perspective right. However, bringing on David Ayer as the film's director ultimately goes against that mentality, and undoes some of the more interesting directions that a female director could take a Gotham City Sirens movie.
Let me make one thing perfectly clear: I am not saying that a male director cannot inherently craft an awesome female-oriented film. That's simply not true. However, the sentiment has been echoed time and time again that movies geared towards specific genders or racial groups do well when they have a filmmaker with an intimate knowledge of that specific demographic behind the camera. Marvel's Ryan Coogler has even made similar comments regarding how his own background factors into the way he tackles Black Panther. To backpedal on that idea and hand Sirens over to David Ayer seems like a step backwards in the grand scheme of things.
Then there's the simple fact that we have lost a bit of trust in David Ayer since the release of Suicide Squad. Whatever you thought of the Task Force X team-up movie, it's hard to deny the fact that it proved to be an insanely polarizing film. Regardless of gender, there's a strong case to be made that another filmmaker deserves the opportunity to take the reins on the Gotham City Sirens movie based purely on the quality of David Ayer's output.
Of course, it's worth noting that we don't have all of the details associated with this film's development. Considering Margot Robbie's Executive Producer credit on Gotham City Sirens, she must've had a hand in bringing Ayer onboard, following their work on Suicide Squad. After the release of Batman v Superman, DC very clearly shuffled the deck behind the scenes in terms of leadership, tone, and style, and that might be what eventually led to Suicide Squad's critical downfall. With a more coherent mission statement established for the film, it remains entirely plausible that Ayer could actually do great work on Gotham City Sirens. In fact, we remain hopeful for that outcome.
What do you think of Warner Bros. putting David Ayer at the helm of Gotham City Sirens? Let us know what you think in the comments section below!
Your Daily Blend of Entertainment News
Originally from Connecticut, Conner grew up in San Diego and graduated from Chapman University in 2014. He now lives in Los Angeles working in and around the entertainment industry and can mostly be found binging horror movies and chugging coffee.