New Doctor Strange Image Reveals How They Filmed One Of Its Coolest Scenes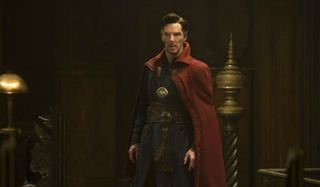 Doctor Strange was able to keep the Marvel Cinematic Universe juggernaut chugging when it was released just last month. A fervent audience flocked to cinemas to check out the mystical and beguiling blockbuster, while critics were quite taken with it, too. One of the film's finest scenes came right at the end, with Doctor Strange (Benedict Cumberbatch) taking on Dormammu (also portrayed by Benedict Cumberbatch) in a battle of wits in the Dark Dimension. Director Scott Derrickson has now taken to Twitter to give us a sneaky peak at how it was filmed, and you can check out the behind the scenes peak below.
Pretty cool stuff. Doctor Strange's Dark Dimension scene was one of the best the film had to offer, as Dormammu found himself trapped in the same moment opposite Stephen Strange again and again and again. Dormammu handled this situation by just repeatedly killing Strange over and over, but it didn't change the fact that they were still stuck inside the loop.
Not only was this scene a hysterical hoot to watch unfold, but it was a surprising turn of pace to how superhero films usually end as Scott Derrickson embraced Doctor Strange's fantastical roots, and the film's protagonist verbally negotiated for Dormammu to leave Earth. After admittedly being killed on several occasions by Dormammu first.
Doctor Strange was a huge hit for the Marvel Cinematic Universe when it was released at the start of November, as it grossed $647.7 million. While that was quite a bit short of Captain America: Civil War's $1.153 billion total from back in May, which is the biggest haul in cinema of 2016, it was more than the origin stories for Ant-Man ($519 million), Captain America: The First Avenger ($370 million), Thor ($449 million) and Iron Man ($585 million). That's something that Kevin Feige, the head honcho over at the Marvel Cinematic Universe, will be rather ecstatic with. Check out the trailer for Doctor Strange below to remind yourself of its majesty.
This is just the beginning for Benedict Cumberbatch's Doctor Strange, though, and the film's multi-dimensions and fantastical elements are set to be felt throughout the future of the Marvel Cinematic Universe. Benedict Cumberbatch has already admitted that he's signed up for at least one more Marvel film, and the post credits scene for Doctor Strange suggested that he will be a part of next November's Thor: Ragnarok, while he's also set to feature in Avengers: Infinity War in May, 2018, too.
Your Daily Blend of Entertainment News
Thank you for signing up to CinemaBlend. You will receive a verification email shortly.
There was a problem. Please refresh the page and try again.