11 Awesome Movies You Need To Watch Before They Leave Netflix In January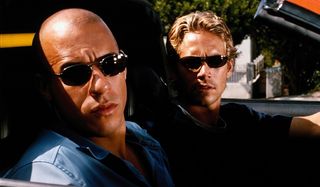 With a new year comes new choices, new resolutions, and of course, new Netflix films to catch up on before they disappear. January 2017's crop of outgoing titles are certainly a good way to start that New Year's resolution of clearing out your Netflix queue before the company does it for you. That in mind, it's time to take our first look at next year's titles leaving Netflix, which is actually our last look at the changing landscape of the streaming giant for this year. Timey wimey stuff, isn't it? Here's what's leaving Netflix in the new year.
The Fast and the Furious/Tokyo Drift
Every time we see that trailer to The Fate of The Furious, we keep thinking what would make Dom turn to the dark side of the criminal underworld? Our best bet is probably to comb through the past films for clues, and as luck would have it, the first and third films are available for ready access on Netflix. The bad news? They're gone next month. So load up on the NoS fueled action while you still can.
Saving Private Ryan
Admit it: the moment you saw the action on the beach in Rogue One: A Star Wars Story, you thought, "This looks like Saving Private Ryan meets Star Wars." While some of that beach action didn't make the final cut, you can still see the comparisons in the finished product. Even better, you can watch the Steven Spielberg classic in its purest form, reliving one of the best World War II films made in the modern era, and possibly ever.
Coming To America
It wasn't too long ago that we told you that Coming To America was worth watching on Netflix. Well, it's about to get yanked from the lineup as of next month, which means you won't have that much time to get in on the classic comedy action between Eddie Murphy and Arsenio Hall. Trust us, the barbershop moments alone are worth the time spent on the film.
Blade II
Some people are going to try and tell you that Blade is the best film in the trilogy of Wesley Snipes' famous bloodsucker. Those sort of people are always trying to ice skate uphill, as Blade II is the best of the lot. Guillermo del Toro's grasp of the elements that make Blade such a fascinating character are only outmatched by his creature designs for the Reaper variant of vampires. Also, the man gave Ron Perlman a lot of work over the years, and introduced the world to Norman Reedus. You owe him homage.
South Park: Bigger Longer and Uncut
Everyone's talking about La La Land, and how great of a musical it is. While that is pretty fair, there's another top flight musical you can very easily check out on Netflix. We're talking, of course, about South Park: Bigger, Longer, and Uncut. A film so filthy it had to change its title, and make some minor tweaks to get an R-rating, it's not only a successful musical, it's also one of the best TV to film adaptations ever. Take that, The Simpsons Movie!
Dazed & Confused
Earlier this year, Everybody Wants Some!! found its way to theaters, being touted as the 80's fueled "spiritual sequel" to Dazed & Confused's 1970's shenanigans. Both are from the hand of indie auteur Richard Linklater, and much like other entries in his resume, they are best enjoyed together. So give yourself a night to space out in your chosen fashion, and pair up both entries in this duology for one wild night of good music and hilarious comedy.
Bring It On
If 1999 has given us any comedy classics, a case could be made for Bring It On being on the list of the ones we currently have. On the surface, it looks like a cheesy teenage comedy that came from the era that gave us some of the best. However, upon closer inspection, it's actually a pretty funny film with some rough edges and a spirit of hard work and determination. Top that off with some moral fiber and a hysterical Ian Roberts cameo, and it's all but locked up.
Ghost Town
Ricky Gervais is severely underrated when it comes to feature film territory. Case in point is his first big role, and probably his best, as the lead in Ghost Town. Playing a snarky dentist who wakes up from a round of anesthesia with the ability to see ghosts, Gervais walks the line between cranky and cute, as he tries to help those on the other side with unfinished business. Come for the snark, stay for the sweet.
Hairspray
If you enjoyed Hairspray Live, or even if you're just a fan of the show and/or John Waters' work, you owe it to yourself to watch the film that started it all. The 1988 original has been on Netflix for some time now, and the cult comedy classic is about to dance off of your streaming queue and into the ether. Your kids loved the musical, so now's a good time to show them how the legend of Tracy Turnblad originated.
The Italian Job
Fun fact: it's been 13 years since The Italian Job has been released, and we still haven't seen that sequel we were promised so long ago, The Brazilian Job. Which is a shame, because by now most of the cast will probably be so expensive that Paramount will have to cough up a lot of Mini Cooper money. Still, at least we have the 2003 remake of the 1969 classic to enjoy. At least, we do until Netflix removes it from the line-up.
CinemaBlend's James Bond (expert). Also versed in Large Scale Aggressors, time travel, and Guillermo del Toro. He fights for The User.
Your Daily Blend of Entertainment News
Thank you for signing up to CinemaBlend. You will receive a verification email shortly.
There was a problem. Please refresh the page and try again.