What Donald Glover Loves About Lando Calrissian In The Han Solo Movie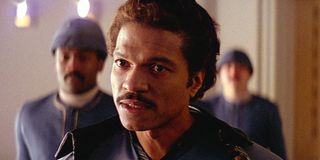 With Rogue One: A Star Wars Story now officially in theaters, we have our sights set on the future of the Star Wars franchise. One of the most exciting films currently in development is the Han Solo spin-off movie -- which is currently aiming to begin production in February. The film will bring in a ton of classic Star Wars scoundrels, including Donald Glover's young Lando Calrissian. It's an iconic role for the actor to inherit, and the most exciting element for Glover is the opportunity to explore Lando's youth and inexperience. The actor explained:
Donald Glover recently took part in a THR-hosted round table discussion, and opened up about playing Lando in the Han Solo spin-off movie. As the movie takes place before Han Solo meets up with Lando in Cloud City during the events of The Empire Strikes Back, the responsibility falls upon Glover to deconstruct the character. This isn't the same Lando that blew up the second Death Star, but it's also not the same Lando that cut a deal with Darth Vader to hand Han Solo over to Boba Fett. He's figuring out who he is, which makes him a malleable character.
This seems to tie in with everything that we already know about Lando. When Han and the rest of the group arrive on Cloud City, Han remarks that Lando seems to have really grown up since their younger days together; now we will get to see these younger days. Perhaps we will even get to see the sabacc game where Han Solo actually won the Millennium Falcon from Lando. Anything is possible at this point.
That being said, Donald Glover has also taken it upon himself to let us know that his version of Lando will still be "cool." Even if this younger version of the character hasn't fully formed, he will still have a certain charm that will make him as endearing as ever. This definitely makes sense from a continuity standpoint, as Han's very first description of Lando (before they ever even make their way to Cloud City) is that he's a scoundrel.
Of course, there's only one thing I want from the Han Solo movie with regards to Lando's character: why he has an affinity for wearing Han Solo's clothes when he gets in the cockpit of the Millennium Falcon.
No mater how many times I watch The Empire Strikes Back, that will never make any sense to me.
CinemaBlend will bring you all of the latest and greatest Star Wars news as more information becomes available to us. The Star Wars spin-off is slated to hit theaters on May 25, 2018.
Your Daily Blend of Entertainment News
Originally from Connecticut, Conner grew up in San Diego and graduated from Chapman University in 2014. He now lives in Los Angeles working in and around the entertainment industry and can mostly be found binging horror movies and chugging coffee.