The Top 10 Horror Movies Of 2016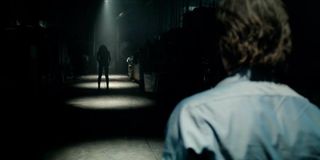 Whether you love it or hate it, there's no denying that horror recently has experienced a massive surge in quality. The genre went through a deep stagnation in the 2000s, but recent years have seen a strong comeback for the once defunct film style. That means less torture porn, and more legitimate fear. For horror fans, it's a welcome change of pace.
On that note, we have compiled a list of the 10 best horror movies from 2016. Some of these films centered on supernatural horror, while others focus on more realistic forms of terror, but all of them are phenomenal films that make us proud to be fans of the genre. Now let's get started with one of the most successful horror franchises in recent memory...
10. The Conjuring 2
Sequels are always a tough nut to crack in the film industry, and horror sequels have a nasty habit of being the worst of the bunch. That being said, it appears that James Wan has figured out the horror sequel formula in grand fashion. The Conjuring 2 once again highlighted the exploits of paranormal experts Ed and Lorraine Warren (Patrick Wilson and Vera Farmiga) as they investigate the infamous Enfield haunting in England. The film is tense, bone-chilling, and completely lives up to the quality of the original.
9. The Shallows
Shark movies have become their own horror genre over the years, and The Shallows completely lives up to the reputations of classics like Jaws and Open Water. Using a relatively simple premise, the film follows a young woman (Blake Lively) struggling to survive when a vicious great white shark forces her onto a reef during a surf trip. Once the carnage starts, it seldom lets up and The Shallows made for a perfect summer horror adventure.
8. Ouija: Origin Of Evil
Beyond a shadow of a doubt, Ouija: Origin Of Evil was the most unexpected horror gem of 2016. Mike Flanagan's sequel to a pretty bad horror film, Origin Of Evil upped the ante in every respect by delivering a chilling paranormal thriller with a wonderful 1960s setting. Few horror sequels have ever managed to exceed the strengths of the original, but the Ouija franchise seems to have completely figured it out.
7. 10 Cloverfield Lane
10 Cloverfield Lane proved to be one of the most pleasant surprises in the horror genre when it debuted in March. The second installment in J.J. Abrams' Cloverfield anthology series, Dan Trachtenberg's bunker-based thriller is chock full of twists and turns, and features some seriously stellar performances from John Goodman and Mary Elizabeth Winstead. Make sure you watch all the way to the end, as 10 Cloverfield Lane features one of the most WTF-inducing third-act twists of all time.
6. The Witch
You might need to watch it with the subtitles on in order to understand the insanely authentic accents, but Robert Eggers' The Witch is still one of the most terrifying supernatural horror films in recent memory. Centering on a shunned Puritan family in the New England colonies, the film tells the bleak story of how they come apart at the seams when they encounter a mysterious force in the woods around their farm. It was one of the first horror films to debut in 2016, and also one of the best.
5. Hush
This is Mike Flanagan's second film on this list, and Hush completely deserves recognition for the way in which it turns the tired home invasion formula on its head. A spiritual successor to 1967's Wait Until Dark, Hush centers on a deaf woman who struggles to fight for her life when a stranger assaults her rural home with a crossbow. If you think you have seen this movie before sorely mistaken, as Hush makes some genuinely innovative changes to the thriller genre.
4. Green Room
Punk rockers vs. neo-nazis. It may sound like a ridiculous premise for a film, but Jeremy Saulnier's Green Room proved to be the quintessential single-location thriller when it debuted earlier this year. The film is an exercise in sustained, brutal tension, and it quite literally never lets up until the credits roll. Above all else, the film is also one of Anton Yelchin's final roles, and he absolutely kills it (literally) as the unassuming bass player, Pat.
3. Lights Out
The best horror movies rely on the simplest premises, and Lights Out utilizes an absolutely perfect concept: stay in the light. Produced on a shoe-string budget, the PG-13 supernatural thriller became a smash hit at the box office over the summer and made Teresa Palmer into one of the best scream queens of our generation. A sequel is currently in development Warner Bros. and we have our fingers firmly crossed that the follow-up can keep the mysterious Diana as terrifying as she was the first time we saw her.
2. The Eyes of My Mother
Among all of the horror movies present on this list, The Eyes of My Mother is the one that can claim its title as a piece of genuine art. A chilling character study, the film centers on a deranged young woman who learns to love violence at a young age and uses it to fill a void left by the deaths of her parents. To go any further would spoil the terror, but The Eyes of My mother proved definitively that torture porn can actually work if it's handled properly.
1. Don't Breathe
Fede Alvarez has slow but surely established himself as the horror icon for this generation, and Don't Breathe might be his finest work to date. Following a trio of burglars who see an easy score in the home of a blind war veteran, the crime quickly goes south when the criminals realize that their victim is far more capable than they ever realized. Don't Breathe is a taut, non-stop thriller that fittingly never gives you a moment to catch your breath, and it completely deserves the title of best horror film from 2016.
What was your favorite horror movie in 2016? Let us know in the comments section below!
Your Daily Blend of Entertainment News
Originally from Connecticut, Conner grew up in San Diego and graduated from Chapman University in 2014. He now lives in Los Angeles working in and around the entertainment industry and can mostly be found binging horror movies and chugging coffee.