Carrie Fisher's 7 Best Non-Star Wars Movie Roles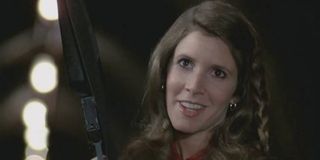 It's a sad day for moviegoers and nerds all over the world. Only a few days after suffering a massive cardiac episode on a Los Angeles bound plane, Carrie Fisher passed away at the age of 60, thus leaving behind an unquestionable legacy. To call Fisher a film icon would be nothing short of an understatement, and her role as Princess Leia has already gone down in movie history as a legendary and unforgettable performance. To put it bluntly: the franchise simply won't be the same without her.
That being said, Carrie Fisher's career has become defined by plenty of other roles outside of the Star Wars universe. In honor of this great woman, we have taken it upon ourselves to compile a list of some of her best performances aside from her notable forays into the galaxy far, far away. From comedy to drama, Carrie Fisher could do it all, and this collection of movie roles definitely embodies the sheer scope of her insane talents. Without further ado, let's get the list started with one of her funniest and most iconic cameos...
Jay And Silent Bob Strike Back
One of Carrie Fisher's most hilarious roles also happened to be one of her smallest. The actress (like her Star Wars co-star Mark Hamill) had a small part in Kevin Smith's Jay And Silent Bob Strike Back, and she absolutely nailed the scene. Taking on the role of a nun who picks up the titular stoners on the side of the road, Fisher completely sells the idea of an old woman who accidentally makes Jay think that she wants him to perform oral sex while driving. It's crass, it's crude, and Fisher kills every second of screen time.
The 'Burbs
Carrie Fisher didn't play too many average housewives during her career as an actress, but that didn't stop her from nailing the archetype in 1989's The 'Burbs. Taking on the role of Carol Peterson (opposite Tom Hanks' Ray Peterson), Fisher perfectly embodied the idea of the "voice of reason" housewife to counterbalance her wackier and more outlandish husband. Fisher wasn't known for playing straight characters in comedies, but Carol Peterson proved that she could do it with incredible ease while still managing to pick up quite a few laughs for herself.
Soapdish
Many of Carrie Fisher's non-Star Wars roles made the most of the actress' rough around the edges demeanor, but we most certainly have to pick Soapdish as one of our absolute favorites of the bunch. Taking on the role of promiscuous, no-nonsense soap opera producer Betsy Faye Sharon, the character was a self-proclaimed "bitch" that refused to take any crap from anyone around her. Soapdish is a movie packed to the brim with flamboyant characters and bizarre caricatures, but Fisher's Betsy will always be one of the most iconic.
Shampoo
There are plenty of reasons to remember 1975's Shampoo. The film delivered sharp political satire immediately after the Watergate scandal, and it garnered numerous award nominations and wins following its release. However, the biggest and best reason to remember Shampoo is the fact that it is the movie that properly introduced Carrie Fisher to the world. Fisher's Lorna Karpf doesn't have a leading role in the movie, but the performance showed what she was capable of and paved the way for her role as Leia Organa only two years later.
Scream 3
Very few people will ever call Scream 3 the best of the Scream series, but Carrie Fisher's cameo as Bianca Burnette is widely considered a fan-favorite moment from the entire slasher spoof franchise. In an incredibly meta scene Bianca sits back, takes a drag of her cigarette, and laments how she was passed up for the role of Princess Leia because the "real" Carrie Fisher was willing to sleep with George Lucas. It's a beautifully self-aware moment (which Scream does so well) and Fisher perfectly leans into the joke.
The Blues Brothers
When we look back on Carrie Fisher's lengthy resume, 1980 stands out as a particularly successful year for the actress. Aside from the fact that The Empire Strikes Back hit theaters, Fisher also took on her endlessly iconic (and heavily armed) role as The Mystery Woman in The Blues Brothers. Fisher gets some of her career's most badass and destructive moments this side of Star Wars as The Mystery Woman, and watching her act alongside the late John Belushi is nothing short of heartbreaking in retrospect. May they both rest in peace.
When Harry Met Sally...
Outside of the Star Wars franchise, another one of Carrie Fisher's most prominent roles over the course of her long career came in 1989 when she starred opposite Meg Ryan and Billy Crystal in Rob Reiner's When Harry Met Sally... Taking on the role of Sally's friend Marie, Fisher delivered a lot of laughs alongside Bruno Kirby's Jess and provided a perfect foil for the story's central heroine. Fisher didn't take center stage in too many of the film's scenes, but she pretty much stole the show every step of the way.
Let us know which of Carrie Fisher's non-Star Wars roles you love in the comments section below so we can continue to celebrate the legacy of this wonderful woman!
Your Daily Blend of Entertainment News
Originally from Connecticut, Conner grew up in San Diego and graduated from Chapman University in 2014. He now lives in Los Angeles working in and around the entertainment industry and can mostly be found binging horror movies and chugging coffee.