The Best Movies Of 2016, According To Conner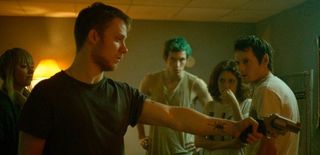 The year has slowly but surely begun to draw to a close, and as such it's time to look back on all of the amazing cinema that hit theaters over the course of 2016. I have to say: I am pretty impressed. From dramas to comedies, and even a few superhero movies, 2016 turned out to be a truly stellar year for film. With the recent release of the Golden Globe nominations (and the imminent announcement of the Oscar nominations) we will soon know the true winners from the last year.
That being said, everyone has his or her favorites for the year; it's the subjectivity of film that makes it so fascinating. With that in mind, I have taken it upon myself to compile my list of the ten best movies from 2016. Some of these movies made me laugh, others made me cry, but pretty much all of them universally took my breath away and reminded me why I go to the movies in the first place. Now, if you will indulge me, allow me to kick off this list with one of the year's most gripping and intimate stories.
10. Manchester By The Sea
Kenneth Lonergan's Manchester by the Sea is an emotional sledgehammer of a movie. It's the story of man coping with the loss of his brother, the newfound responsibilities of taking care of his brother's teenage son, and the demons that arise when he returns to his hometown in order to try and keep things together. It's an incredibly simple and straightforward narrative, but the performances from actors like Casey Affleck and Michelle Williams elevate it to another level entirely. There's a palpable layer of humanity at its core, and that's what makes it so heartbreaking.
That being said, what ultimately makes Manchester by the Sea such an enjoyable film is the way in which it presents a family coping with loss in such a realistic way. Yes, it's a film about tragedy, but it also takes the time to showcase the bizarre humor that rears its head whenever a tragedy strikes. The film can have you laughing in one moment, and crying in the next, and it works because the impeccable acting completely sells its emotional complexity.
9. The Edge Of Seventeen
The fact that Kelly Fremon Craig's indie dramedy The Edge of Seventeen flew so criminally under the radar this year will go down as one of the biggest cinematic injustices of 2016. Despite garnering an impeccable 94% "Fresh" rating on Rotten Tomatoes, the film only brought in a $15 million box office gross against a $9 million budget. I have said it before, and I will most certainly say it again: it was the best fall release that nobody went to see.
That being said, out of all the "coming-of-age" teen movies to hit theaters since John Hughes' hey-day, The Edge of Seventeen is unquestionably the best and most unflinchingly honest. The film uses a relatively stripped down and non-flashy approach to win audiences over -- relying instead on Craig's razor-sharp writing and some impeccable performances from its leads. Hailee Steinfeld has turned in several stellar performances since her debut in the remake of True Grit, but if she can continue delivering performances on par with The Edge of Seventeen's Nadine she will solidify her place as the next Jennifer Lawrence.
8. Rogue One: A Star Wars Story
To call Rogue One: A Star Wars Story an experiment in blockbuster filmmaking would be nothing short of an understatement. The film stripped away so many of the familiar elements that we have come to expect from a Star Wars movie (Jedi, the Skywalker family, etc.) but it still managed to deliver an engaging and enthralling tale about entirely new characters. At first, we thought that we didn't need to know the story of how the Rebels obtained the Death Star plans, but we were so wrong. To put it bluntly: the experiment paid off, and the Star Wars franchise will never be the same now that Lucasfilm and Disney know what they can do with this timeline.
I think that's ultimately what makes Rogue One so endlessly enjoyable as a fan of the saga. Sure, the well-crafted action sequences are great, but the film also serves as a reminder of how big the Star Wars galaxy can truly be. No longer encumbered by the need for the familiar, future Star Wars films will have the opportunity branch off into new directions and explore entirely new narratives. They have Gareth Edwards' expert handling of the first standalone Star Wars story to thank for that.
7. The Nice Guys
Shane Black has always been the master of the buddy movie dynamic, and his 1970s noir-esque comedy. The Nice Guys, proves beyond a shadow of a doubt that he has not lost a step since the days of Lethal Weapon. The insane charm of Ryan Gosling's Holland March and Russell Crowe's Jackson Healy carry the film, and I would honestly pay to watch two hours of them simply riffing off of one another in a bar. The awesome throwback story is just icing on the cake.
As a May release, The Nice Guys definitely flew under the radar compared to mega blockbusters like Captain America: Civil War, but it's definitely well worth your time. Although it didn't make a huge impression at the box office upon its release, I have strong feeling that it will age incredibly well and develop a strong cult following as time goes by. Holland March and Jackson Healy are simply two of the best original characters in recent memory, and they deserve the franchise treatment.
6. Captain America: Civil War
The Russo Brothers had a real challenge on their hands when Marvel made the decision to adapt Mark Millar's classic Civil War arc into a movie. The biggest obstacle? The simple fact that Marvel Studios did not have nearly enough of the requisite characters and properties to properly adapt the story. However, that didn't stop The Russos, and they ultimately managed to craft a film that feels firmly rooted in the history of the Marvel Cinematic Universe while also honoring the legacy of the source material.
It would be easy to praise Captain America: Civil War simply for its sheer spectacle. After all, the Berlin airport sequence is arguably one of the best superhero action scenes in recent memory -- if not all time. However, what makes Civil War truly work is the fact that every single character is so profoundly realized. The verbal battles between these heroes are just as compelling as the physical ones, and even newcomers like Tom Holland's Spider-Man and Chadwick Boseman's Black Panther feel beautifully balanced and welcome in this world. Civil War is a watershed moment for the superhero genre, and proof that size isn't something to fear when making a comic book movie.
5. Hell Or High Water
Many filmmakers have tried and failed to revive the American western in recent years, but David Mackenzie's Hell Or High Water is the closest thing the genre has seen to a renaissance in quite some time. Telling the tale of two brothers who resort to robbing banks in order to save their home, Hell Or High Water is a gorgeous looking (and impeccably acted) movie that genuinely sells the tragic beauty of the dying American west.
The beauty of a movie like Hell Or High Water is the way in which it manages to tell a story that feels simultaneously timeless and timely. It's an easily understandable story of brothers and desperation that could work in almost any setting, while also using the contemporary setting of West Texas to its advantage. Chris Pines and Ben Foster play two archetypical desperados set against the backdrop of a modern American setting that has been ravaged the economic recession and the war in the Middle East. If aspiring filmmakers want to work within the western genre, they would be wise to look to Hell Or High Water for inspiration.
4. La La Land
Damien Chazelle is on one hell of a hot streak lately, and La La Land may truly be the Whiplash director's best film to date. A story about love, dreams, and the difficulty balancing the two, La La Land is a stylish and vibrant piece of cinema that will instantly endear you and make you long for a bygone era of filmmaking. There is no doubt that Gene Kelly and Debbie Reynolds are looking down on this film approvingly.
Like many of the films on this list, La La Land is the type of movie that comes around once in a lifetime -- if you're lucky. It's an exquisitely shot film that uses color, lighting, and the kinetic energy of Ryan Gosling and Emma Stone to its full advantage. Even if you do not have an affinity for musicals, this movie's inherent charm, emotional intelligence, and brilliant camerawork will make you a true believer.
3. Green Room
Punk rockers fighting for their lives against an army of neo-Nazis. At first glance it sounds like an absolutely ridiculous premise, but Jeremy Saulnier's Green Room takes that idea and absolutely runs with it. The film follows a band called The Ain't Rights who witness a murder while performing at a white supremacist compound, and their subsequent fight for survival once it becomes clear that the skinheads aren't going to let them walk out of the building alive.
Green Room is nothing less than a master class in suspense filmmaking. The film is unflinching in its depiction of brutality, and it manages to completely sustain its tension throughout its entire run time. In an era defined by sanitized violence and bloodless horror, the grisly deaths (of good guys and bad guys like) are an impressive show of guts (sometimes literally) by Saulnier. Green Room also happens to be one of Anton Yelchin's final performances before his tragic death over the summer, making the film even more chilling in hindsight.
2. Don't Breathe
While Green Room is an impeccable single-location thriller, it simply cannot beat Fede Alvarez' Don't Breathe. Riding high off of their well-received Evil Dead remake, Alvarez and actress Jane Levy have once again teamed up for a thriller about three career criminals who break into the home of a blind ex-soldier -- only to find that he's far more capable of fighting back than they realized. The film was an exercise in pure, sustained tension, and it had me biting my nails from start to finish. With that in mind, it is unquestionably the best horror film to hit theaters in 2016.
The ultimate beauty of Don't Breathe is Fede Alvarez' willingness to utilize The Blind Man and his house to their full potential. Scares come in all forms in this movie, and they can come from any angle at any time. Certain members of the audience were particularly turned off by one specific scene involving a turkey baster, but I personally feel like that endlessly upsetting scene had its place, and elicited the desired response from the audience. If you're looking for a horror film that's going to tap into every single one of your fears and phobias, look no further than Don't Breathe.
1. Deadpool
Deadpool shouldn't have worked. After a decade of waiting -- coupled with Ryan Reynolds' total misfire as Wade Wilson in X-Men Origins: Wolverine -- there's simply no way that Deadpool should be as good as it is. Tim Miller's action is smooth and well-choreographed, the jokes (even when they're completely juvenile) are smart and well-timed, and the entire film moves along at a brisk pace -- clocking in at a tight 108 minutes, which is unheard of for a superhero movie. It bucks all comic book movie traditions, and that's why it works.
Those are all elements that make Deadpool good, but what makes it great is the sheer amount of heart and soul we find waiting just beneath the surface. Deadpool is not defined buckets of blood and an onslaught of dick jokes; Deadpool is the best movie of the year because it genuinely makes you feel for an inherently irreverent anti-hero. There's a palpable passion behind this movie, and it seeps into every single frame. In a year that was defined by hollow spectacle and overly grim superhero battles, Deadpool proved to be the one blockbuster that hit every single beat on the emotional spectrum and left us wanting more. "Deadpool; that sounds like a fuckin' franchise"
Originally from Connecticut, Conner grew up in San Diego and graduated from Chapman University in 2014. He now lives in Los Angeles working in and around the entertainment industry and can mostly be found binging horror movies and chugging coffee.
Your Daily Blend of Entertainment News
Thank you for signing up to CinemaBlend. You will receive a verification email shortly.
There was a problem. Please refresh the page and try again.