The Major Sacrifices Martin Scorsese Had To Make To Complete Silence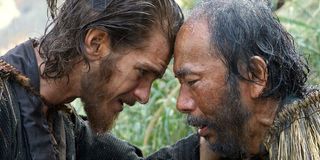 Silence is the cheapest film (from a budget stand point) that Martin Scorsese has made since Kundun back in 1997, which cost him $28 million. The likes of Gangs Of New York, The Aviator, The Departed, Shutter Island, Hugo, and The Wolf Of Wall Street all cost between $80 million-$150 million to make, while Silence's budget was, at most, $50 million -- and maybe even as low as $40 million, depending on reports. It has now been revealed that because of Silence's paltry budget, Scorsese and his co-stars had to make quite a few sacrifices in order to bring the spiritual drama to the big screen.
Gaston Pavlovich opened up to me about what it took to get Silence made when I sat down with the producer at the start of December. During our discussion, I quizzed Pavlovich about some of the challenges he encountered while trying to get the director's passion project, which he has been developing for more than 25 years, to the big screen. Pavlovich made it clear that he was just happy to have been working with the director, before then explaining how everyone involved had to take a pay cut. Pavlovich explained,
Andrew Garfield and Adam Driver previously opened up about what they went through in preparation for their roles as Jesuit priests in Silence. Garfield told the New York Times that his preparation went on for a year and it ended with him visiting a seven-day silence retreat at St. Bueno's Jesuit house in Wales, which he admitted saw him get "totally swept up in all things Jesuit and very taken with Jesuit spirituality."
Adam Driver also confessed to the publication that he dropped fifty-one pounds for his role, and even visited the same retreat as Garfield at the same time. When they saw each other there they continued their vows of silence and just waved at each other. You can watch the trailer for Silence below to get a glimpse of their portrayals below.
Silence will be expanded to a wide release on January 13, 2017.
Your Daily Blend of Entertainment News
Your Daily Blend of Entertainment News
Thank you for signing up to CinemaBlend. You will receive a verification email shortly.
There was a problem. Please refresh the page and try again.