King Kong And Godzilla's Shared Universe Has An Official Name, And It's Badass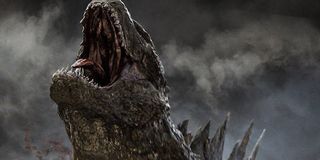 Cinematic universes are all the rage right now, and it's not just superheroes that are getting in on the action. Starting in 2014, Warner Bros has been building a shared universe focused around Godzilla and King Kong, two of pop culture's mightiest monsters. Those two will clash in the near future, but for now, the groundwork is being laid with their solo movies. With Kong: Skull Island nearing release, it's been revealed that the world that the giant ape and his fire breathing reptilian cohort live in is officially known as MonsterVerse.
The folks over at SciFied noticed that on the back of new Kong: Skull Island toy merchandise packaging, MonsterVerse is labeled in large letters at the bottom providing an official name for the franchise. Given that the primary draw of this franchise is seeing gigantic, deadly creatures fighting for supremacy, MonsterVerse is a fitting label. Just to be clear, this is not the same shared universe as the one Universal is building with its catalog of monsters, like The Mummy, Wolf Man and Bride of Frankenstein. Granted, those folks are scary in their own way, but they would quickly be killed by the towering creatures residing in MonsterVerse.
While Godzilla and King Kong are MonsterVerse's main representatives, they are most certainly not the only deadly creatures that are walking the Earth in this continuity. In Godzilla, the eponymous creature had to fight two MUTOs (Massive Unidentified Terrestrial Organism) in San Francisco, though it hasn't been revealed yet what menaces he'll battle in Godzilla: King of Monsters. In Kong: Skull Island's case, the island where the gorilla resides is also home to a number of weird creatures, including, as John C. Reilly's character calls them, "skull crawlers." 2020, though, will have the biggest showdown of all, as Godzilla and King Kong will come head-to-head in the appropriately-named Godzilla vs. Kong.
Besides the monsters themselves, another thing that ties these movies together is Monarch, the secret scientific organization that studies these creatures. They quarantined one of the MUTOs in Godzilla until it escaped years later. Monarch has also been referenced in Kong: Skull Island's marketing, (confirming the organization has been around for decades), although it remains to be seen what exactly their role will be in the movie. Right now MonsterVerse only has projects lined up until 2020, but depending on the success of their next few movies, it's likely that others will be ordered afterwards, be it a second Kong movie, a third Godzilla movie or giving a new monster the spotlight.
The MonsterVerse continues on March 10 with Kong: Skull Island, and Godzilla: King of Monsters will be released on March 22, 2019. Then the major crossover will truly begin when Godzilla vs. Kong rampages into theaters on May 29, 2020.
Connoisseur of Marvel, DC, Star Wars, John Wick, MonsterVerse and Doctor Who lore. He's aware he looks like Harry Potter and Clark Kent.
Your Daily Blend of Entertainment News
Thank you for signing up to CinemaBlend. You will receive a verification email shortly.
There was a problem. Please refresh the page and try again.