Why Mike Myers Hated Filming Wayne's World's Bohemian Rhapsody Scene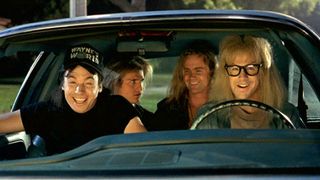 There aren't many more iconic musical moments in movie history than Wayne and Garth rocking out to Queen's Bohemian Rhapsody in Wayne's World. But while movie fans have been adoring their efforts ever since the film was released back in 1992, it turns out that Mike Myers and Dana Carvey despised shooting the sequence.
This revelation was made by Wayne's World director Penelope Spheeris when she sat down with Entertainment Weekly to discuss the beloved comedy, which next month is celebrating its 25th anniversary. Spheeris revealed that even though it's probably the most memorable scene in the entire movie, at the time, those involved in its shooting couldn't see why it was so important. Spheeris recalled
Thankfully Penelope Spheeris was able to convince those around her that the scene was integral to the film. During her discussion with EW, Spheeris opined that the scene is "so memorable because it's sort of like the epitome of joyous youth," while noting that the operatic structure of both the song and Freddie Mercury's writing added a drama to it, too. Those of you that bizarrely can't remember the sequence in question, and those of you that simply want to relive the moment and head-bang along to Queen with Garth and Wayne again, can do so by watching it below.
But while Penelope Spheeris is undoubtedly pleased to have her name associated with such a popular franchise, her experience shooting Wayne's World was quite tumultuous. There was tension between her and Mike Myers over the final cut of the film, which ultimately led to her being dropped as the director for Wayne's World 2, as Stephen Surjik was brought in as her replacement.
In hindsight that might not have been the best decision, because while Wayne's World was a smash hit success, grossing $183.1 million from just a $20 million budget, its follow-up failed to match it. In fact, Wayne's World 2 only grossed $48.2 million from a budget that had been doubled to $40 million.
Still, Penelope Spheeris insists that there are no hard feeling from herself to Mike Myers regarding their past problems, revealing that she forgave him after watching Austin Powers and realising that he was a "genius" for making so many people feel good. Penelope Spheeris probably hasn't watched The Love Guru then, because I'm pretty sure that would instantly change her mind.
Your Daily Blend of Entertainment News
Thank you for signing up to CinemaBlend. You will receive a verification email shortly.
There was a problem. Please refresh the page and try again.