Which Characters Might Show Up In The First Star Wars: The Last Jedi Trailer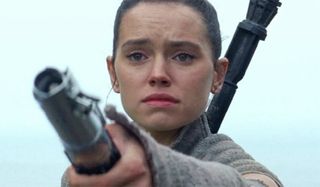 Following on from the revelation that Star Wars: Episode VIII will be titled The Last Jedi, as well as the release of a brand spanking new poster for the blockbuster last month, moviegoers are still impatiently waiting with bated breath for news on when its first trailer will be released. A few people very close to The Last Jedi's production have been providing tidbits regarding the potential footage that will be included in its first trailer, and they've insisted that contrary to some rumors it will include the whole gang.
While we'd all clearly love to see Luke Skywalker, Leia Organa, Finn, and Rey (as noted above by Star Wars News Net) getting along famously in the very first trailer for Star Wars: The Last Jedi, it wouldn't be too much of a surprise if we only got a peak at one or two of them. Don't forget that the Star Wars posse has grown quite a bit, so Kylo Ren, Poe Dameron, Maz Kanata, General Hux, Chewbacca, C-3P0, R2-D2, Snoke and whoever Benicio Del Toro, Laura Dern and Kelly Marie Tran are playing will be vying for screen time, too.
Whoever pops up in the preview will undoubtedly suffice, though. Don't forget that each additional trailer for Star Wars: The Force Awakens and Rogue One: A Star Wars Story did a superb job of upping the ante and increasing anticipation for their blockbusters. They did this by sporadically teasing those included in the films, with the first trailer for The Force Awakens showing us the Millennium Falcon and then immediately making the hairs stand up on the back of our necks with a blast of John Williams' score.
Then the second teaser ended with Harrison Ford's Han Solo and Chewbacca standing back on board the Falcon. Even though Rogue One was supposed to revolve around Star Wars characters that we'd never seen before, its use of stormtroopers and the Death Star in its first trailer, and then the revelation that Darth Vader was indeed in the film right at the end of its second, perfectly set up it up, too.
The big question now is, though, when are we actually going to see the very first trailer for Star Wars: The Last Jedi? It should be sooner than later, as Kathleen Kennedy herself admitted just ahead of the release of Rogue One that they would at least wait until the spring to show us something, just so they could give Rogue One a little space.
After Rogue One's impressive reviews and a box office return of $1.048 billion, I think it's safe to say that the blockbuster has now been give plenty of room to breathe, and we'll hopefully get something in the next few weeks. Either way, Star Wars: The Last Jedi will be with us on December 15.
Your Daily Blend of Entertainment News