The Moment In Doctor Strange That Made Benedict Wong Geek Out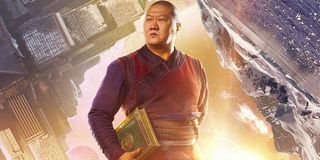 Benedict Wong was easily one of the highlights of Doctor Strange, as his character of Wong's interactions with the titular superhero brought a delightfully levity to the film that was much needed. But while audiences undoubtedly enjoyed watching his efforts, there was one moment during its production that Benedict Wong realized that he was filming a seminal scene in comic-book history, and it immediately provoked him to geek out.
The Mancunian actor made this admission during his recent interview with ComicBook.com to discuss the upcoming home entertainment release of Doctor Strange. Benedict Wong confessed that he became overwhelmed with geeky joy when he was tasked with discussing both The Avengers and The Infinity Stone. Benedict Wong recalled:
Benedict Wong is going to have to pull himself together, as Doctor Strange was just the beginning for his tenure in the Marvel Cinematic Universe. That's because he is going to reprise his role as Wong in Avengers: Infinity War, where he will come face to face with Iron Man, Hulk, Captain America, Thor and even the Guardians Of The Galaxy.
While it's understandable the Benedict Wong, the 45-year-old actor from northern England, had a little bit of a moment when he realized he was delivering such iconic lines from the Marvel comic books, the character of Wong, who looks over the ancient books in Kamar-Taj's library, will have to be much more stoic and unimpressed by them.
It has already been confirmed that Wong's presence in the Marvel Cinematic Universe will be extended to Avengers: Infinity War. But there's also a very good chance that we'll see even more of him after that, too. Because of the success of Doctor Strange, which grossed $673.4 million and scored 90% on Rotten Tomatoes, we can expect a follow-up to be confirmed at some point in the future. Especially because Ant-Man is getting its own follow-up after grossing just $519.3 million.
There's plenty more scope to explore in Doctor Strange, too, as the blockbuster did a stupendous job of expanding the Marvel Cinematic Universe by taking us deep into the Dark Dimension and introducing us to the Mystic Arts. You can remind yourself of Doctor Strange's splendour by watching its trailer below.
Benedict Wong will be summoned to reprise his role as Wong for Avengers: Infinity War in the very near future, as it has just started production, while the movie will finally be released on May 4, 2018.
Your Daily Blend of Entertainment News