Cool Star Wars: Rogue One Video Shows The Tarkin Recreation Process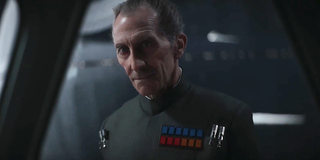 Rogue One: A Star Wars Story drew attention for more than just showing how the Rebellion stole the Death Star plans from the Empire before A New Hope. One of the key ways the movie tied into the first Star Wars movie was by recreating Grand Moff Tarkin, originally played by the late Peter Cushing. It's one thing to have a new actor only voice a character, as has been the case with Stephen Stanton playing Tarkin on Star Wars: The Clone Wars and Star Wars Rebels, but for Rogue One, the crew had to make actor Guy Henry look as close to Cushing as possible. Now you can see how they accomplished that in a new video.
Guy Henry did an admirable job sounding almost exactly like Peter Cushing, even going so far as to replicate certain mannerisms, but that was just the beginning of Rogue One creating its Wilhuff Tarkin. As you can see in the video above, posted by ILMVisualFX, Henry had to act out scenes not only in Imperial uniform like his other cohorts from the Empire, but with motion capture dots on his face and a mechanism on his head that recorded his facial movements. The VFX team also had to recreate Cushing's likeness on the computer, down to the last wrinkle. When all was said and done, the crew had matched with Henry's facial movements with the CGI Tarkin model, producing the final product seen on the big screen.
Reception to Rogue One's Tarkin has been mixed, with some moviegoers not even noticing the artificialness, while others have said it was still in uncanny valley territory. The dim lighting aboard the Star Destroyers and Death Star certainly helped with making Tarkin look more realistic, which wasn't the same case with their recreation of a young Leia Organa at the very end of Rogue One, as she was seen under bright lights in her brief appearance. The Tarkin creation has also prompted questions of if using digital reproductions of dead Hollywood actors might become more common with blockbusters. Rogue One visual effects supervisor and executive producer John Knoll has expressed doubt this will happen due to the Star Wars movie needing to do that for specific story reasons, not to mention the whole process being "extremely labor intensive."
Had the Grand Moff Tarkin recreation not looked satisfactory to the folks at Lucasfilm, some backup plans for Rogue One included featuring the high-ranking Imperial officer on a hologram or giving his dialogue to other characters. Fortunately for them, that wasn't the case, and their work on Tarkin and Rogue One's other visual achievements has been nominated for the Best Visual Effects Oscar. You can find out whether the Rogue One crew takes home that gold statue this Sunday when the Academy Awards ceremony airs.
Rogue One: A Star Wars Story is expected to arrive on home media in the coming months, but it is still playing in some theaters across the nation.
Your Daily Blend of Entertainment News
Connoisseur of Marvel, DC, Star Wars, John Wick, MonsterVerse and Doctor Who lore. He's aware he looks like Harry Potter and Clark Kent.