The Alternate Plan Star Wars: Rogue One Had Prepared For Tarkin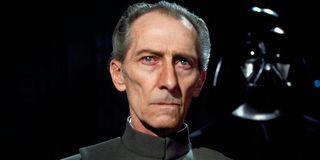 One of the most talked about elements about Rogue One: A Star Wars Story has been the work that went into making the character Wilhuff Tarkin look like his original actor, Peter Cushing. While actor Guy Henry portrayed the Imperial governor during the shoot, the digital likeness of Cushing was laid over Henry's face. As one would imagine, it was a complicated process, and had Lucasfilm not been impressed with the end result, they had some backup plans prepared for Rogue One's use of Tarkin. Here's what executive producer and visual effects supervisor John Knoll had to say on the subject:
In an interview with The New York Times, Knoll addressed how if the digital effects used to make Guy Henry look like the late Peter Cushing hadn't worked properly, he and the Rogue One crew would have taken one or all of the above steps so that Tarkin's screen time would be decreased, but the story would have progressed smoothly. Let's be glad it didn't come to that. While the overall look of Rogue One's Tarkin definitely didn't escape uncanny valley territory, it was better than the alternative: barely seeing Tarkin in at all. He was the Death Star's overseer in A New Hope, so to have him show up in holograms or be gone altogether right as the space station became operational would have been a weird move.
It's a good thing, then, that Lucasfilm pure all that time, energy and expense into pulling off this incredible feat of movie magic once they'd secured permission from Peter Cushing's estate. Starting off, Guy Henry wore motion capture materials on his face during Rogue One's principal photography, which John Knoll described as "a super high-tech and labor-intensive version of doing makeup." There were also issues getting the right type of lighting, and the crew was careful to make side-by-side comparisons of Cushing's original Tarkin footage and Henry's performance so they could keep track of the former actor's physical tics.The main rule the animators followed, according to Hal Hickel, an Industrial Light & Magic animation supervisor, was that "realism had to trump likeness."
The final product has earned mixed reception from both moviegoers and critics, and has even prompted conversations about whether movies should be manipulating the likenesses of dead actors in this way, Still, as far as Tarkin in Rogue One is concerned, we're thankful that he was fully included rather than placed on the sidelines, even if he didn't look 100% convincing.
Rogue One: A Star Wars Story is currently playing in theaters, so whether you've already seen it already or haven't had the chance to, you can judge for yourself if Lucasfilm hit the mark with their digital work on Tarkin and a certain other character who shall remain nameless in this particular article.
Connoisseur of Marvel, DC, Star Wars, John Wick, MonsterVerse and Doctor Who lore. He's aware he looks like Harry Potter and Clark Kent.
Your Daily Blend of Entertainment News
Thank you for signing up to CinemaBlend. You will receive a verification email shortly.
There was a problem. Please refresh the page and try again.