7 Actors DC Should Get To Play Nightwing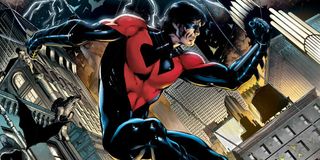 There are some significant changes taking place over at DC right now, and the latest development is arguably one of the most interesting ones that we have seen in months. Decades after his initial introduction into DC Comics, Dick Grayson's older alter ego of Nightwing will finally make his way to the silver screen for a solo movie of his very own under the direction of The LEGO Batman Movie's Chris McKay. It's a phenomenal development for the superhero genre as a whole, and for longtime fans of the greater Batman mythos, it's the culmination of years of anticipation.
On that note, we have taken it upon ourselves to put together a list of well-known actors that could easily step into the role of Dick Grayson. Some of these actors are primarily known for their work on television, while others have experienced long careers in film, but all of them have proven that they have what it takes to take on Bruce Wayne's first son. Now let's kick this off with an actor who is no stranger to the DC Universe.
Robbie Amell
While Robbie Amell's cousin Stephen has seen great success portraying the dark and brooding Oliver Queen on The CW's Arrow, his take on Firestorm (and Deathstorm) has been somewhat hit or miss. However, I think The Flash actor may be able to find redemption taking on an entirely new DC hero as Dick Grayson. Robbie Amell certainly has the look to portray Nightwing, and (at least compared to his cousin) he plays whimsical and charming better than he does dark and somber. If DC wants a lighthearted Dick to counterbalance Bruce's overwhelming darkness, then Mr. Amell seems like a perfect candidate for the job; all they need to do is swap out the Firestorm Matrix for a set of Escrima sticks and a domino mask.
Dev Patel
Look, there are characters out there whose race plays a prominent role in the stories that they inhabit. Luke Cage is a perfect example of that idea. However, Dick Grayson is simply not one of those characters. Dev Patel is currently riding high off of an Oscar nomination for his work on Lion, and you would be hard-pressed to find a more inherently versatile and talented young actor working in Hollywood today. Beyond that, puberty was very kind to Mr. Patel since the days of Slumdog Millionaire, and he has clearly developed the physically imposing stature necessary to portray a badass vigilante like Dick Grayson. Nightwing may not necessarily look like Dev Patel in the comics, but that's no reason to reject him out of hand
Steven Yeun
If you're a fan of The Walking Dead, then you already know that Steven Yeun's ill-fated Glenn was the Dick Grayson of Rick Grimes' group of survivors. He was strong, loyal and eternally optimistic up until the moment his brains were bashed in with a baseball bat. Those qualities could easily carry over into a silver screen portrayal of Nightwing, and Steve Yeun's possible version of this comic book icon could easily become a perfect counterpoint to the darker and more brooding Batman that Ben Affleck plays in this world. Oh, and for those of you who are about to make comments about an Asian-American Nightwing, please refer to the previous post about Dev Patel representing a good choice as well.
Garrett Hedlund
Garrett Hedlund is definitely one of the older entries on this list, but his work in films like Tron: Legacy, Pan and Eragon prove that he's entirely comfortable performing in effects-driven genre films. Despite his blonde hair, we could easily see him stepping into the black suit of an older and more seasoned Nightwing alongside the aging Batman of the DCEU. Beyond that, his advanced age would make him absolutely perfect to take over the cape and cowl if DC and Warner Bros. Ever decide to go the extra mile and kill the silver screen version of Bruce Wayne. The odds of that happening are slim, but then again, we never thought we would see a Nightwing movie in the first place.
Keith Stanfield
Out of all the actors present on this list, 25-year-old Keith Stanfield probably has the most diverse resume. He has proven himself as an insanely capable dramatic actor with his work on films like Selma and Short Term 12, but his work as Darius in Donald Glover's Atlanta has shown how comfortable he can be in a bizarre comedy. That type of range is essential when adapting someone like Dick Grayson because the eldest Robin is one of the most emotionally rich characters in the entire DC mythos. He doesn't just brood like his mentor, he airs his grievances and emotes like a real human being. Stanfield is an exciting up-and-comer, and Nightwing feels like a perfect fit for his particular set of talents.
Dylan O'Brien
Young adult franchises are a dime a dozen these days, and they're usually pretty bad. However, what genuinely sets The Maze Runner (as well as the sequel, The Scorch Trials) apart from the competition is the sheer amount of commitment Dylan O'Brien brings to the role of Thomas. The 25-year-old up-and-comer throws himself into all of his stunt work, and he is one of the on-screen runners this side of Tom Cruise. Throw in the fact that he's a legitimately talented actor who can handle raw and gritty dramas (look no further than Deepwater Horizon for an example of that) and he seems like the perfect candidate to take over this role and add a much-needed youthful edge to the DCEU.
Aaron Taylor-Johnson
Aaron Taylor-Johnson often feels like the next Chris Evans when it comes to superhero movies. He's an insanely skilled actor with plenty of comic book movie experience, but none of his superhero performances seem like the one he's going to be remembered for yet. That could easily change if he signs on to play Nightwing in the DCEU. Johnson's work as Kick-Ass and Quicksilver feel like a perfect recipe for a dark, yet charming version of Nightwing, and at 26-years-old he's the perfect age to take on the role for a long tenure. Aside from that, with his recent Golden Globe win for his work on Nocturnal Animals, he could bring the appropriate amount of prestige to this universe.
This poll is no longer available.
Originally from Connecticut, Conner grew up in San Diego and graduated from Chapman University in 2014. He now lives in Los Angeles working in and around the entertainment industry and can mostly be found binging horror movies and chugging coffee.
Your Daily Blend of Entertainment News
Thank you for signing up to CinemaBlend. You will receive a verification email shortly.
There was a problem. Please refresh the page and try again.