Why Atlanta Is The One New Show You Need To Start Watching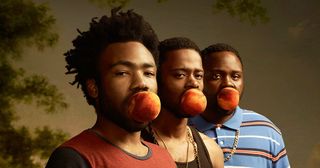 Over the course of 2016, we saw a wide variety of fantastic new TV series debut. From The Crown to Luke Cage to Pitch, television continued to double down on the notion that it's becoming the landscape where some of the best modern storytelling takes place these days. That said, arguably no show epitomized that idea more than Donald Glover's FX darling, Atlanta. From the very beginning, we stood by this series, and we continue to believe that it's genuinely unlike anything currently on television.
With that in mind -- and considering Atlanta's recent recognition from the Golden Globes -- we think it's time to break down exactly why this series has struck such a profound chord. If there is one new show from 2016 that you should currently be watching, it's Atlanta, and we're going to lay out the reasons why it's an absolute revelation. To kick things off, we need to address the fact that Atlanta never fails to defy our expectations and try something new through its storytelling...
Every Episode Is a Reinvention
If you're sick of television that regularly adheres to a strict formula over the course of a given season, then Atlanta should feel right up your alley. The show seldom uses the same narrative structure twice, and if it does it usually finds a fresh way to utilize it the second time around. Protagonists can change from episode to episode with a somewhat loose regard for a continuity beyond makin' that paper, and it's always jarring yet brilliant. One episode from Season 1 exclusively followed Van as she tried to weasel her way out of a drug test at work, and the very next installment in the series was a satirical "show within a show" following Paper Boi as he made a guest appearance on a local talk show. The lack of a set formula ultimately makes Atlanta endlessly malleable and infinitely enjoyable.
The Premise Could Not Be Fresher Or More Relevant
Right out of the gate, Atlanta set itself apart for utilizing an incredibly diverse cast of predominately black actors -- which is a rare sight on television these days. It has made itself even more distinct over the course of its first season for the way in which it has been able to portray the experience of black Americans without painting in broad strokes or resorting to stereotypes. Issues of poverty, crime, police brutality and hip hop are thoroughly examined all while creating an incredibly rich and nuanced world that feels wholly authentic and entirely realized. That's one of Atlanta's biggest strengths. It doesn't depict the lives of these characters as a constant struggle; it portrays a vibrant and multifaceted environment that's chock full of dark moments and beauty in equal measure.
It Constantly Takes Risks Through Its Storytelling
It's not easy for a show to regularly upend its own formula and give audiences something new week after week. One of the biggest factors in a show's staying power with fans remaining consistent and delivering similar content on a regular basis. Atlanta doesn't seem very concerned with such issues, and can flip from hilarious jokes to envelope-pushing drama on a dime, or it can sometimes just keep upping the comedy in strange ways. No episode of the series epitomizes that idea more than "B.A.N.," the aforementioned Paper Boi-centric talk show episode. The episode came from out of nowhere, and it completely trusted the audience to go along with the episode's surreal premise. Atlanta does not hold our hands as it boldly ventures off into new directions; the series respects our intelligence enough to let us figure it out for ourselves.
The Show Expertly Utilizes Surreal Humor
Despite Atlanta's fresh and relevant overall premise, the show still manages to take any and every opportunity to delve into the surreal and the absurd. These weird moments range from making Justin Bieber black for no discernible reason to an Arizona Iced Tea commercial poking fun at the fact that the price is on the can ( the price is on the can) to the existence of an invisible car. Seriously, there's a moment in the show that features an invisible car committing a hit and run. Atlanta has an indisputable weird streak that would make Salvador Dali scratch his head, and the show's willingness to let humor and drama come from the strangest of places has allowed it to make creative decisions that other shows would never have the ability to pull off.
The Entire Cast Is Uniformly Excellent
It would be easy to spend all of our time focusing on how much Donald Glover gets right throughout this series -- as Earn does ground the entire affair -- but he is only one aspect of the big picture. From top to bottom, the cast of Atlanta is one of the most talented and eclectic ensembles currently working on television. Everyone manages to fill a particular niche without feeling pigeon-holed by cliché or stereotype, and all are thoroughly fleshed out. There's Keith Stanfield's sagelike conspiracy theorist Darrius, and Zazie Beetz's intelligent and driven Van, and everyone's personality is strong enough to support an individual story that serves the greater narrative in a given episode. Then, of course, there's Brian Tyree Henry, who gives scene-stealing deadpan performances as Paper Boi in each and every episode. The in-and-out supporting cast couldn't be better, either.
Atlanta is currently between seasons, but you can catch the entire first season on FX's mobile app and website. And to see everything that's coming to the small screen in the near future, check out our midseason premiere schedule.
Originally from Connecticut, Conner grew up in San Diego and graduated from Chapman University in 2014. He now lives in Los Angeles working in and around the entertainment industry and can mostly be found binging horror movies and chugging coffee.
Your Daily Blend of Entertainment News
Thank you for signing up to CinemaBlend. You will receive a verification email shortly.
There was a problem. Please refresh the page and try again.