5 Batman Questions That Are Bugging Us About The DCEU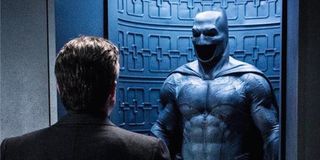 There's no corner of the DC universe more attractive than Gotham City. The Caped Crusader has become a staple of the superhero genre in the years since Adam West first donned the cape and cowl, and it seems that the DCEU is about to expand upon that idea in unprecedented ways. Not only has director Matt Reeves officially returned to direct Ben Affleck's upcoming Batman movie, but we have also officially learned that Chris McKay has signed on to helm a Nightwing solo film. And this in addition to Zack Snyder's take on the hero in Justice League. If you're a fan of dark vigilantes, then it's a very good time to be alive.
Of course, this exciting development raises more real questions than definitive answers, and we have put together a list of things that we need to know before these films hit theaters. Check out our list and let us know what particular Batman questions you still have in the comments section below. Now let's kick this off with one of the most obvious queries of the bunch.
When Are These Movies Coming Out?
This one has become one of the most pressing questions at the forefront of everyone's minds. When the hell are these movies coming out? The DCEU's slate has shifted a number of different times to accommodate a number of different films, but the solo Batman movie has never really been tied down to a specific release date. On that note, Nightwing has joined his older counterpart in that state of live-action DC limbo, and we do not know when either of these movies will hit theaters. That said, with confirmed directing talent behind each of these films (unlike movies like The Flash or Green Lantern Corps) it seems likely that they will enter production sooner rather than later. Let's just hope that DC won't shift the slate again.
Is Nightwing An Origin Story?
The DCEU is a particularly unique landscape when compared to the Marvel Cinematic Universe because it's an adapted world where some iconic storylines (such as A Death in the Family) have already taken place. That raises a very distinct question about whether or not we will see Nightwing's origins in the upcoming Nightwing solo movie. If a Robin has already been killed in this world, then it means that Dick Grayson gave up the mantle by the time the events of Man of Steel and Batman V Superman happened. Will we see the full-blown Nightwing origin story, or will the film only reference the fact that he was once a Robin, and let that be the end of it? At this point, it could go either way and both seem like valid options.
When Will These Movies Take Place?
Building off of that idea, the announcement of a Batman movie and a Nightwing movie raises questions about when both of these films will take place within the greater DCEU landscape. The arrival of the Kryptonians on Earth has in many ways become DC's version of Star Wars' Battle of Yavin -- it's the moment by which time is gauged, and stories seem to take place either before it or after it. Very few plot details have come forward from either of these Bat Family stories and as such we currently have no idea when these films will take place in the DCEU timeline. That's a question that needs an answer if we're going to figure out what type of heroes we will see in this story.
How Connected Will These Stories Be?
Will Nightwing operate in Gotham, or will he operate in Bludhaven? Batman and Nightwing often go hand in hand, but they also have stories that are completely insulated from one another. That's what makes this recent development so fascinating. As of right now, we have no way of knowing if these two characters will cross over with one another in their upcoming solo movies, and if they do, we have no way of knowing how substantial their roles will be in each other's movies. The DCEU has thus far done a very, very commendable job of making the silver screen DC universe feel cohesive and lived-in, and the presence of Nightwing and Batman in each other's stories will go a long way towards doubling down on that idea.
Will More Robins Be Introduced?
The imminent introduction of Nightwing into the DCEU means that we can pretty much confirm that the Robin suit seen in Batman V Superman belongs to Jason Todd. This was established last year during a Facebook Live tour of the Warner Bros. Studios, but this seems to serve as in-universe confirmation of that fact. However, now that Nightwing is on the way, this development could seemingly pave the way for characters like Red Hood, Robin, and Red Robin to eventually make their live-action debuts on the silver screen. Dick is the only Robin to ever appear in a Batman movie, but I know that fans are waiting to see Jason, Tim, and Damian. Will the DCEU introduce more versions of Batman's iconic sidekick? We will have to wait and see, but it's an exciting prospect.
Originally from Connecticut, Conner grew up in San Diego and graduated from Chapman University in 2014. He now lives in Los Angeles working in and around the entertainment industry and can mostly be found binging horror movies and chugging coffee.
Your Daily Blend of Entertainment News
Thank you for signing up to CinemaBlend. You will receive a verification email shortly.
There was a problem. Please refresh the page and try again.