Seth Rogen Will Obsess Over Charlize Theron In New Dark Comedy Flarsky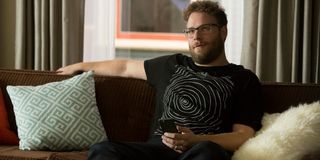 When it comes to starring in films that he has written, directed or both, Seth Rogen is one of the most consistent comedic stars of the modern Hollywood age. Rogen's success rate in material that he's just acted in is a little lower, though, something that he'll be looking to correct when he takes to the screen for Flarsky. There's every chance that he will right his previous wrongs, too, because he'll star opposite Charlize Theron in the comedy, which has a plot that should result in hilarity.
According to The Hollywood Reporter, Flarsky will see Seth Rogen playing an unemployed journalist who decides to pursue his childhood crush, who also just so happened to be his babysitter, too, played by Charlize Theron. There are just a couple of stumbling blocks.
Because not only will Charlize Theron's character look like Charlize Theron and Seth Rogen's look like Seth Rogen, but he's currently struggling to find new employment and she is one of the most powerful and unattainable people in the world. To make matters even worse, Rogen's character is described as someone who has been "battered by his own misfortune and self-destructive ways." I'm guessing things aren't going to go very well for him to begin with.
While the confirmed cast at the moment is just Seth Rogen and Charlize Theron, Flarsky's director has been revealed as Jonathan Levine, who previously oversaw the likes of 50/50 and The Night Before with Rogen. Jonathan Levine also directed Warm Bodies and The Wackness, too, while he most recently finished work on Snatched, which sees Amy Schumer and Goldie Hawn star opposite each other, and is due out on Mother's Day.
Considering the success of both 50/50 and The Night Before, Seth Rogen and Jonathan Levine have proven that they make an impressive comedic team. Maybe not quite as good as Seth Rogen and his writing and directing partner Evan Goldberg, but their combined presence is enough to make me believe that Flarsky will be worthwhile. Especially since Charlize Theron is a tour-de-force whenever she's on screen.
Plus, even movie hipsters have a reason to be intrigued by Flarsky. Dan Sterling's script was on the 2011 Black List, which proves that the Hollywood powers-that-be saw some potential in it. The Hollywood Reporter has confirmed that Flarsky has a scheduled production start date of August, which suggests that it will be released at some point towards the end of 2018.
Those of you that are keen on watching Seth Rogen in action before then will be able to do so when James Franco's The Disaster Artist is released at some point in 2017. Charlize Theron will next be seen in The Fate Of Furious on April 14, which will be followed up by the intriguing Atomic Blonde on July 28.
Your Daily Blend of Entertainment News
Your Daily Blend of Entertainment News
Thank you for signing up to CinemaBlend. You will receive a verification email shortly.
There was a problem. Please refresh the page and try again.