What Seth Rogen Regrets About Superbad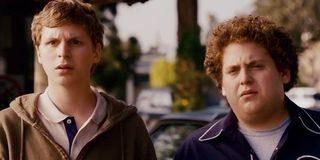 We live in an era where every Hollywood film is judged upon just how politically correct it is. Some might believe that this has gone way too far, but it has undoubtedly made people more sensitive to what might offend others. And Seth Rogen has now admitted that, looking back, several of his films could probably be criticized for crossing the line. Especially in Superbad, when it comes to its use of homophobic language.
Seth Rogen made this admission while talking to The Guardian ahead of the release of Neighbors 2: Sorority Rising, noting that there are some jokes in Superbad that he both regrets and, looking back, slightly cringes at.
Need some proof? Well here's Jonah Hill's Seth putting down Christopher Mintz-Plasse's Fogell, who will forever be remembered in cinematic circles for his stupendous nickname, McLovin, in a manner that would nowadays be met with a howl of groans and a myriad of eye-rolls.
While Superbad is littered with numerous words and jokes that are hard to even smirk at through a modern view-point, even though the film was released fairly recently in 2007, Seth Rogen's admission that he himself has been appalled by them suggests that it's something he will be avoiding with gusto in his future projects. Plus, you can kind of forgive Rogen and his co-writer Evan Goldberg because they did start writing the film when they were just 13-years-old.
Considering Seth Rogen's above remarks it looks as though he is trying to right his previous wrongs in Neighbors 2: Sorority Rising, as it's now been revealed that in the comedy sequel Dave Franco's Pete Regazolli is actually homosexual. This decision was made after the character told Zac Efron's Teddy Sanders, "I love you," during the conclusion to the original, and director Nicholas Stoller has admitted that this was the perfect opportunity to explore a new storyline for the character.
Neighbors 2: Sorority Rising actually reunites most of the original cast of its 2014 predecessor, including Zac Efron, Rose Byrne, Dave Franco, and Ike Barinholtz, but this time puts them up against a female sorority that has moved in next door to Mac (Seth Rogen) and Kelly Radner (Rose Byrne). The sisters of Kappa Kappa Nu are led by Chloe Grace Mortez's Shelby, but the sorority also consists of Kiersy Clemons, Beanie Feldstein and Selena Gomez.
You'll get to see if the above can do better than Superbad by avoiding borderline homophobia when Neighbors 2: Sorority Rising is released later this month on May 20.
Your Daily Blend of Entertainment News
Thank you for signing up to CinemaBlend. You will receive a verification email shortly.
There was a problem. Please refresh the page and try again.