Watch Celebrities Read Mean Tweets During Last Night's Hilarious Oscar Edition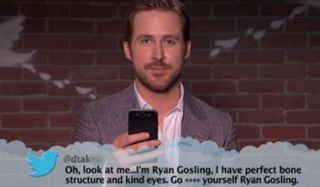 We now live in a world where anyone can immediately get into contact with their favorite celebrity to tell them exactly how they feel about them. Most people use this to send positive messages on social media, but there are some that decide to go in the complete opposite direction and inundate celebrities with hateful messages instead. While it's never nice to see someone being attacked, Jimmy Kimmel has been asking celebrities with thicker skin to read out the meanest tweets about them for several years now. And the results always go viral. So when Jimmy Kimmel was asked to host the 89th Academy Awards, there was always a good chance that he'd do so on the biggest stage of them all. Thankfully he duly obliged. You can watch the Oscar version of Mean Tweets by clicking below.
There are some absolutely brutal disses in there. Probably the harshest of which was reserved for Eddie Redmayne, who was compared to the "scum" that you find between your toes, while the tweeter also insisted that they hated his stinking guts, too. I understand that The Theory Of Everything and The Danish Girl weren't for everyone, but that feels needlessly excessive.
Of course, there was plenty more where that came from. Emma Stone apparently reminds someone of a "crack whore," which immediately makes me believe that they've seen some pretty elegant "crack whores." Despite this jab, at least she was able to console herself later in the night with her very own Best Actress Academy Award for her performance in La La Land.
Meanwhile, Casey Affleck was compared to Billy Bob Thornton's character from Sling Blade, Tilda Swinton was compared to a dog, Jeff Bridges was accused on not wearing pants on a regular basis and Natalie Portman's food selection choice was called into question. They didn't all land, as Whoopi Goldberg found her insult tame and Jessica Chastain didn't even understand hers. Some were right on the money, though, as Miles Teller really does look like the sort of person that would crash a wedding and then request "Gangham Style" all night long even though he doesn't know the bride or groom.
The only segment that was slightly disappointing was the insult made against Robert De Niro. Because after the monstrosity that was Dirty Grandpa, and having recently starred in a cavalcade of terrible films, there was surely a meaner tweet out there about the iconic actor than him being too old to play a gangster.
Mean Tweets has been a stalwart of Jimmy Kimmel Live for several years now. If this is somehow the first time that you're hearing about them then you're in luck, too. Because if you head over to Jimmy Kimmel Live's YouTube account there are ten editions of Celebrities Read Mean Tweets for you to catch up with. Enjoy.
Your Daily Blend of Entertainment News