Watch Drake And More React To Some Outrageous Mean Tweets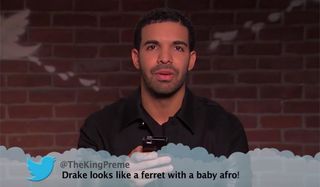 Jimmy Kimmel's staff has perfected the art of culling through a whole bunch of tweets to find the sharpest, funniest and meanest barbs from fans, or more likely, non-fans. This week's edition of the funny "Mean Tweets" segment is wholly music related, meaning that Drake, Mumford and Sons, Rita Ora, Kelly Clarkson, Demi Lovato, Lionel Richie and a whole bunch of other performers get totally insulted. Give it a watch, below.
"Mean Tweets" is pretty old hat by now, but this edition is particularly funny, as I feel like people have really amped up their game with the insults, or at least Jimmy Kimmel Live! has done a better job of finding some wild/cleverly insulting comments. In terms of a truly outrageous insult, we need look no further than the Twitter user who made this ribbing jab at Drake:
It's hard to be compared to a ferret, but that one even insults Drake's hair. Not everyone is simply throwing out as wild of an insult as possible, though. The Mumford and Sons-oriented tweet is actually set-up really cleverly, so that the joke comes in the final portion of the tweet. Instead of making a sour face, The Mumford and Sons guys even really appreciate the joke. Check it out:
It's not just male musicians who get insulted in this video (although the likes of Ed Sheeran and One Direction also take some major shots). Poor Kelly Clarkson has to deal with a comment about being so bad that someone would wait until she appeared on their television screen to go take a dump. That's both gross and insulting.
"Mean Tweets" has been around for a long time now, and a lot of celebrities, including actors, other singers, sports stars and even President Obama have had to take their medicine live on the air. While Twitter may be a place that is rampant with insults aimed at celebrities from various professions, I do appreciate that the celebrities for the most part handle the insulting comments really well. Some of them even venture to make comments back.
You can catch new editions of "Mean Tweets," as well as "Liewitness News" and more when Jimmy Kimmel Live! airs on weeknights at 11:35 p.m. ET, only on ABC.
Amazing Race & Top Chef superfan with a pinch of Disney fairy dust thrown in. If you've created a rom-com I've probably watched it.
Your Daily Blend of Entertainment News
Thank you for signing up to CinemaBlend. You will receive a verification email shortly.
There was a problem. Please refresh the page and try again.