Why Storm Didn't Get Much Attention In The First X-Men Movie, According To The Screenwriter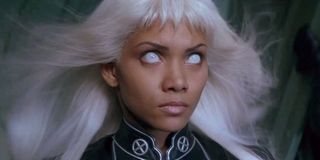 When the first X-Men film came out all the way back in 2000, there was a little bit of consternation that Halle Berry wasn't given much room to play with the character of Storm. Mostly because the mutant was so truly beloved, but also because Halle Berry is Halle Berry. David Hayter, the man who was tasked with writing the first X-Men film, has now revealed exactly why Halle Berry wasn't in it that much, explaining that really just wasn't room for her.
David Hayter, who rather unbelievably made his screenwriting debut with the $75 million blockbuster, opened up about the lack of Storm in X-Men during a recent chat with The Hollywood Reporter. Hayter admitted that even though he's a huge fan of both Halle Berry and Storm, the fact that X-Men had Wolverine at the heart of it, as well as 11 other main characters, meant that he just didn't have the running time to explore her in as much depth he wanted to. Hayter explained,
Over the course of the X-Men franchise, Halle Berry's role as Storm, which she would reprise in X2, X-Men: The Last Stand, and ever so briefly in X-Men: Days Of Future Past, became bigger and bigger. While David Hayter, who co-wrote X2 alongside Michael Dougherty and Dan Harris, was ecstatic to focus more of the follow-up on the character, he admitted that it was 20th Century Fox that pushed for Halle Berry to be feature heavily in the sequel. That's because, between the release of X-Men and X2, Halle Berry just so happened to win the Best Actress Academy Award for her performance in 2001's Monster's Ball, making her quite a prized asset.
On the face of it you can say that decision worked rather well, because while X-Men grossed $296.3 million back in 2000 to truly kick-start the wave of superhero movies that currently dominates cinema, its follow-up X2 fared even better, grossing $407.7 million. While those numbers might sound a little soft in comparison to the amount that other superhero movies gross nowadays, this was the first real proof that there was an audience for these films. And while David Hayter wasn't asked to return for X-Men: The Last Stand, or any other installment to the franchise, he can be safe in the knowledge that he made a huge impact on the cinematic landscape with his work on the first two films.
Your Daily Blend of Entertainment News