This Rotten Week: Predicting Kong: Skull Island Reviews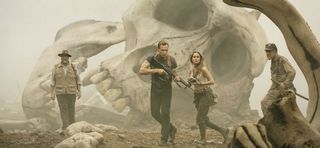 March has become a serious blockbuster month, and 2017 has the schedule to prove it. Last week we were delivered Logan, and in the coming weeks we will have Beauty and the Beast, Power Rangers, and more. This week, however, sees a giant ape rule as king, with the release of Kong: Skull Island. It's gonna be a Rotten Week!
Just remember, I'm not reviewing these movies, but rather predicting where they'll end up on the Tomatometer. Let's take a look at This Rotten Week has to offer.
I have to say, I kind of like the idea that there are these huge, quasi-indestructible monsters living in secret around the world just waiting to be unleashed. That's what Legendary Films is exploring with their MonsterVerse franchise that started with Godzilla a couple of years ago, and now continues with a reboot to King Kong. Those monsters live in the same world and now we get the story of the latter.
Kong: Skull Island takes place before the events in Godzilla as a post-Vietnam War group of soldiers and scientists explore an island where there just happens to be a 100-foot-tall ape roaming around the jungle (and fighting off equally terrifying monsters). Frankly, it looks pretty awesome and early reviews are surprisingly positive, with it sitting at 83% right now.
Director Jordan Vogt-Roberts takes a sharp turn away from his first film, The Kings of Summer (76%). That was an excellent coming of age movie about a group of kids looking to build their own house in the woods and leave their angst-y high school experience. This one has people exploring the woods with much higher stakes. Namely, a gorilla that can grab helicopters in his bare hands. It looks awesome.
It wasn't a great week for the Rotten Watch considering I only hit on one out of three predictions. The easy one was Logan (Predicted: 95% Actual: 93%), considering a bunch of reviews were already in when I made the prediction. This film will likely go down as one of the best reviewed comic book movies ever. Scoring this high on the Tomatometer has it living outside the realm of "great action movie" and into the just "great movie". That's impressive for this kind of flick and makes a fantastic send off for Jackman and company.
Considering the tone of the trailer and over-the-top melodrama I should have seen The Shack (Predicted: 51% Actual: 16%) reviews coming because. Man, what a bottom feeder for a pretty star-studded cast based on the overwhelmingly popular book. A couple of critics didn't mind the tone and message, but most thought it just completely awful and borderline unwatchable. I missed bad on this prediction.
And finally, I fell out of range with Before I Fall _(Predicted: 47% Actual: 68%). I thought it would end up just as a middling teenage drama, too vanilla to really move critics in either direction. But it finished quite a bit above the middle and most thought it explored the drama and tension of the female high school experience with enough gravity to warrant the _Groundhog Day-like storyline.
Next time around we've got Beauty and the Beast and The Belko Experiment. It's gonna be a Rotten Week!
Your Daily Blend of Entertainment News
Doug began writing for CinemaBlend back when Terminator: The Sarah Connor Chronicles actually existed. Since then he's been writing This Rotten Week, predicting RottenTomatoes scores for movies you don't even remember for the better part of a decade. He can be found re-watching The Office for the infinity time.