An Alien: Covenant Sequel May Happen A Lot Quicker Than We Thought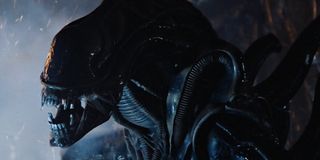 After the slight disappointment that was Prometheus, 20th Century Fox and Sir Ridley Scott spent a couple of years trying to figure out the best way to get more out of the Alien franchise going forward. First things first was getting Alien back in the title, while Sir Ridley Scott has also confirmed that Covenant will be the first of two, possibly even three sequels that will ultimately connect to the original Alien. They plan on striking while the iron is piping hot, too, because the English director has now confirmed that the script for the Alien: Covenant sequel is already complete, and that production can begin as early as next year.
Sir Ridley Scott, whose journey to being a cinematic luminary truly began with his work on 1979's Alien, made this admission to The Sydney Morning Herald, explaining that he had screenwriters scribe the next film while he was working on Covenant. This means that they are now ready to start on it as soon as 20th Century Fox gives them the green-light to do so. Sir Ridley Scott remarked,
Sir Ridley Scott failed to provide the names of the people that have written the script for the next Alien film, but it's probably safe to assume that it was either John Logan, Dante Harper, or both, as they were the duo that wrote Alien: Covenant. From all accounts, the only reason why Sir Ridley Scott isn't sat behind a camera right now barking orders at another Alien cast is he's waiting to see exactly how audiences respond to Alien: Covenant first.
20th Century Fox will also be keen to see what audiences respond to the most with the sixth installment to the Alien franchise before they hand out another hefty budget for Sir Ridley Scott to play with. While the Alien series certainly has a luster, the fact that Alien: Covenant is rated-R and probably cost somewhere between $100 and $150 million to make means that the studio are taking a bit of a risk with the film. The trailers for Alien: Covenant suggest that it's a risk worth taking, because there's a darkness and gore to the film that makes it look as though it will be both utterly terrifying and downright delightful, too. You can check out a trailer for Alien: Covenant below.
We've not got long at all to wait until Alien: Covenant is finally released. That's because it was previously moved up from its proposed release date of August 4 to May 19, which suggests that Sir Ridley Scott is eager to return to the world in the very, very near future.
Your Daily Blend of Entertainment News